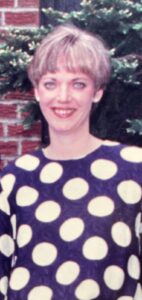 Catherine E. Cassidy
Catherine E. Cassidy
Catherine E. Cassidy, 66, of Raccoon Twp., passed away on Monday, May 1, 2023 in Good Samaritan Hospice at Heritage Valley Beaver.  She was born in Warren, Ohio on March 22, 1957 a daughter of the late Raymond and Ann Campbell.  She was member of St. Titus Church, Mary Queen of Saints Parish. She attended St. Titus Catholic School and eventually graduated from Quigley High School.  She was retired from Allegheny Valley Schools where she worked in the Physical Therapy Department.  She enjoyed spending her time painting china, she was very artistic. 
In addition to her parents, she was preceded in death by her siblings.
She is survived by her beloved husband of 40 years, William J. Cassidy III; her two sons: William J. Cassidy IV, Hopewell Twp. and Craig M. Cassidy, FL; 2 granddaughters: Madisyn Cassidy and Ainsley Brown.
Friends will be received on Friday, May 5, 2023 from 2~4pm and 6~8pm in the Huntsman Funeral Home and Cremation Services of Aliquippa. Where a Blessing Service will be held on Saturday May 6, 2023 at 9am.
The family wishes to extend a heartfelt thank you to the nurses and staff at Good Samaritan Hospice for the care they showed during Cathy's illness.