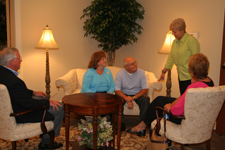 Huntsman Funeral Home & Cremation Services provide funeral arrangements and cremation services to all area families regardless of faith or beliefs or budget.  Based upon the family's preferences and requests, we co-ordinate all aspects of service.  Including complete care of the deceased, contacting clergy, cemetery, military honors, arranging the date and time of the service, as well as any other arrangements requested.
We offer one of the widest selections of caskets; burial vaults; cremation caskets & cremation urns available.
Pre-arrangements are also offered by our fully licensed and highly experienced staff.  Whether you are looking into a fully funded and guaranteed pre-arrangement, or just wanting to keep your wishes on file, we can serve you.