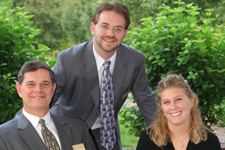 The Huntsman Funeral Home & Cremation Services was established in 1973, when James R. Huntsman purchased the Rochester Funeral Home from W. Dale Coleman. Dale Coleman started his business in the 1930's, and built the current location in 1954 as a funeral home.
Looking to expand, in 1982 the Aliquippa Funeral Home was purchased from William F. Maiden. Mr. Maiden started the Aliquippa Funeral Home in 1962.
In 2003, Huntsman Funeral Home & Cremation Services expanded into a third location in Moon Twp.  The site of St. Philip's Episcopal Church, was purchased from the parish when they outgrew their location.  Upon the church building a new larger facility nearby, Huntsman Funeral Home & Cremation Services did extensive remodeling inside and out to bring the people of Moon Twp. this new state of the art facility.
Having over four decades of experience, and two generations of family in the business, Huntsman Funeral Homes & Cremation Services will continue to bring dignified, affordable funeral and cremation services to the people of the area.