Cremation Services
Cremation Services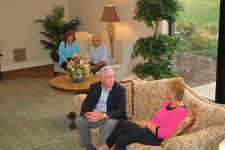 We at Huntsman Funeral Home & Cremation Services understand your preference for cremation. Our mission is to educate the public and provide cremation services above and beyond the other firms in our area.
Huntsman Funeral Home & Cremation Services owns and operates our own cremation facility.
We never contract out for cremation services with a third party. We handle all aspects of the cremation process ourselves.
Our cremation facilities can be viewed and inspected by families.
Family participation in the cremation process is possible.
We are one of the only area firms to offer Life Gems Memorial Diamonds. Contact us for more information on this amazing memorial product.
We have a large selection of urns and keepsakes in our showroom and have vast resources to assist you in finding the right urn or keepsake for your family.
We can offer aerial scattering of cremated remains by private aircraft flown by our staff.
There are so many other ways to memorialize your loved one that just about anything is possible.
We are always available to answer any questions or to discuss any and all matters related to cremation options.