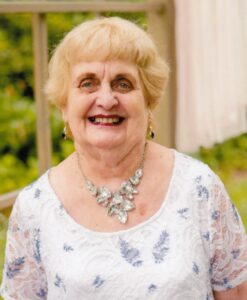 Janet Ruth (Wengryn) Keenan
Janet Ruth (Wengryn) Keenan
On May 2, 2023 at the age of 88, Janet Ruth (Wengryn) Keenan had her prayers answered when she passed away suddenly in her Moon Township home of 56 years and made her way to heaven to once again dance with her sweet Bob who departed in 2013.
Together the two raised five daughters: Kim (Dale) Hollabaugh, Lori (Steve) Delaney, Jacy (the late Dale) Rudolchick, Randi (Greg) Vallecorsa and Aimee (Gregg) Dodd. She always considered Valeria (Tom) Marriot her sixth daughter. Janet was preceded by the passing of her beloved siblings, Mary Margaret Ellsworth and Harry Wengryn. She is survived by her brother Mittro "Pete" Wengryn Jr.
She was the proud Gramma to Kate (Jeff) Brown, Brett Hollabaugh, Gregg Dodd Jr., Leah Rudolchick, Molly (Dave) Rudolchick Dum, and Casey Vallecorsa. And the "GG" to her Great Granddaughters Amelia and Eleanor Brown.
Janet took the opportunity to celebrate every moment. She spent her life surrounded by not only friends and family, but by friends of family….and family of friends. Her world consisted of so much happiness and love. Some of those friends included people from Carnegie Christian Church, West Hills Christian Church, the Monday Night Mixers Bowling League, the fans in her sections at the Steeler and Penguin games, customers and contacts of Keenan Construction Company, and the people at all of the dance halls that she and Bob frequented throughout their life.
Janet always told her girls that after her death she didn't want a "wake", she wanted a "party" with music and dancing. That alone sums up her love for happiness. She was as bright and sparkly as the jewelry she always donned.
Friends are invited to a Memorial Gathering on Tuesday May 16th from 2PM until time of Memorial Service at 3:30 PM in the Huntsman Funeral Home & Cremation Services of Moon Twp. (1522 Coraopolis Hts. Rd.).
Per her wishes, a "party" will be held at Paradise Island Bowl on Neville Island, 7601 Grand Avenue, Pittsburgh PA 15225 immediately following the Memorial Service.
In lieu of flowers, the family request everyone partake in "An Emergency In The Kitchen". If you know……you know 😉