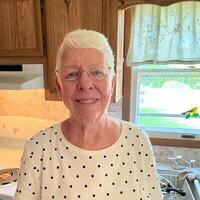 Joanne Margaret Snyder
Joanne Margaret Snyder
Joanne Margaret Snyder, 80, of Charles Town, WV passed away on Saturday, February 18, 2023 at her residence.
Born May 22, 1942 in Monaca, PA, she was the daughter of the late David Krebs and Evelyn Weigel Krebs.
Joanne adored her two grandchildren and loved her fur baby feline companions.
She is survived by two daughters, Jennifer Hickman and husband, Zachary of Lovettsville, VA and Jody Rawlins and husband, James of Charles Town, WV, two grandchildren, James Rawlins, III and Jordan Rawlins and twin sister, Janet Bassford.
In addition to her parents, she is preceded in death by her beloved husband, George, in 1999 and sister, Judith Krebs.
Crypt side services will be held at 11:00 am on Tuesday, February 28, 2023 at Sylvania Hills Memorial Park in Rochester, PA