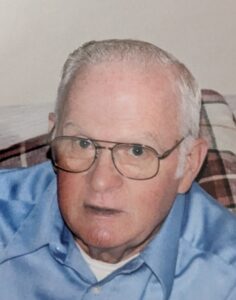 Clyde J. Waltermire
Clyde J. Waltermire
Clyde J. Waltermire passed into the arms of Jesus on February 20, 2023. Clyde was born December 19, 1936 in Brush Valley, PA.  He graduated from Pine Township High School in 1954 and joined the US Air Force. During his eight years of service, he learned his skills as an aircraft mechanic as he was stationed in El Paso TX, Biloxi MS, and finally Griffis Air Force Base in Rome, NY.  After he completed his USAF service, he was hired as a mechanic for Mohawk Airlines in Utica, NY. When Mohawk airlines was acquired by Allegheny Airlines in 1972, Clyde's job was transferred to Pittsburgh, and the family moved to Moon Township in 1974. He retired from USAir in 1998.
Clyde is survived by his loving wife, Linda, whom he met at Grace Baptist Church in Rome NY, where they were married in March 1964. He is also survived by three daughters: Deanna (Alex) Lengyel of Robinson Township, Debbie (Russell) Burton of York, PA, and Darcie (Michael) Herron of Church Hill, MD. One of Clyde's greatest joys was being Pap Pap to his seven grandchildren. He deeply loved Daniel Yost of Robinson Township; Alex Lengyel III of Pittsburgh; Steven Lengyel (fiancée Airen Lowenstein) of Robinson Township; Emory Clyde Burton of Montreal, Quebec; Elise Burton of York, PA; Connor Herron & Brenna Herron of Church Hill MD.
Clyde came from a large, loving, and faith-filled family. His surviving siblings are C. Benjamin (Marie) Waltermire of Rockwood, PA; Thomas (Elizabeth) Waltermire of Anthem, AZ; Patricia (Dale) Stotler of Friedens, PA; Peggy (Alan) Webber of Inverness, FL; Donald (Linda) Waltermire of Rushville, NY; Nancy (Foster) Constable of Laceyville, PA; MaryLou (James) Emigh of Indiana, PA; and Judy McQueen of New Brighton, PA. His many nieces and nephews have fond memories of Uncle Sonny/Uncle Clyde. He was preceded in death by his parents Clyde K. & Veda (Stiles) Waltermire; daughter Terri Lyn Waltermire (1969); sisters Betty Schirf, Thelma Waltermire, and Violet Ludwig; and brothers-in-law Edwin Ludwig and Rev. Gail McQueen.
Clyde was a man of incredible integrity, a role model who made a lasting impact on those who knew him. He had a deep faith and was a humble, faithful servant of His Lord and Savior. While in New York, Clyde was very active in church planting and served as a lay preacher at the new Alexandria Bay Baptist Church in New York for many months until a permanent pastor was hired. Clyde could often be found at West Hills Baptist Church in Moon Township, where he served as a deacon, Sunday School teacher, Trustee, choir member, youth helper, grounds keeper, and all-around mister fix-it. He served on pastoral search committees at various churches throughout his life. Clyde faithfully read the Bible and possessed a deep understanding of God's word.
Clyde was a farmer at heart, who always enjoyed his garden. When he was not working or serving at church, he could be found fixing cars, trucks, or lawnmowers in his garage – either for himself or for friends and neighbors. After he retired, he built a woodshop at his Moon home and enjoyed many years of woodworking. He also enjoyed reading – mostly books about history, biographies, and Christian topics.
He will be greatly missed on this side of heaven, but we know he is living in the glorious presence of his Lord and Savior. The family deeply appreciates everyone at UPMC Presbyterian & Montefiore hospitals for providing excellent and compassionate care to Clyde and his family. Memorial contributions can be made to West Hills Baptist Church, 259 Shafer Road, Moon Township, PA 15108.
Visitation on Friday February 24, 2-4 PM and 6-8 PM in the Huntsman Funeral Home & Cremation Services of Moon Twp. (1522 Coraopolis Hts. Rd.) A Funeral Service will be held at 11 AM on Saturday, February 25, 2023 at West Hills Baptist Church, 259 Shafer Road, Moon Township. Interment will be conducted privately at the convenience of the family.