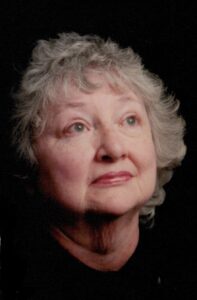 Patricia Anne Ferguson
Patricia Anne Ferguson
Patricia Anne Ferguson, 97, of Hopewell Township, passed away on February 5, 2023, surrounded by loving family, at home. She was born in Vandergrift, PA, a daughter of Bessie and Howard Davis.
In addition to her parents, she was preceded in death by her husband William in 2003, and a sister, Nancy.
She is survived by her son Ronald (Debra), daughter Marcia, cherished granddaughter Taylor, beloved grandson Jordan, sister Betty (Denver), and numerous nieces and nephews.
Pat did nurse's training at Mercy Hospital, before working at Bell Telephone in Pittsburgh during World War II. She waited for Bill's safe return from his naval ship, the USS Winooski, and they married – embarking on a good life of 55 years together, setting a fine example of generosity and kindness. Pat was an avid reader, outstanding cook, baker, knitter and seamstress, and an amazing friend her entire life. She touched so many lives. She did as we all should do – appreciated the earth's flowers while lifting her eyes to see cloud formations. The ocean's waves were her great joy, as she searched for seashells. The glory of sunsets and promise of sunrises always took her breath away. God's creations weren't lost on her.
Her desire was to have no viewing, but she and the family would be pleased if you could donate to the Beaver County Humane Society at 3394 Brodhead Road, Aliquippa PA 15001 or to the Roof Fund at Victorian Vandergrift Museum and Historical Society – VVMHS, 184 Sherman Avenue, Vandergrift, PA 15690 or to a charity of your choosing.
… and just at the moment when someone says, "There, she is gone," there are eyes watching her coming, and other voices ready to take up the glad shout, "Here she comes!" And, that is dying … Gone From My Sight – Henry Van Dyke