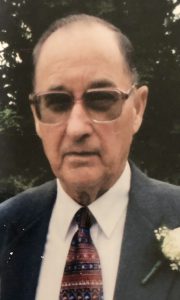 Henry Clifford Gardner
Henry Clifford Gardner
Henry Clifford Gardner, 97 of Hanover Twp., passed away on November 15, 2022 in Good Samaritan Hospice at Heritage Valley Beaver. He was born in Hot Springs, Arkansas on February 7, 1925 the son of the late Walter and Rosa Gardner. He was a retired school teacher from Hopewell Area School District. He was a long-time member of Mt. Olivet Presbyterian Church where he was a Deacon and participated in the Choir. He loved to spend his time woodworking, quilting and gardening. He also enjoyed playing the piano.
He was preceded in death by his first wife Jacquelyn Gardner, his second wife Elizabeth "Toots" Inglefield Gardner; two sisters: Zella Allen and Oma Padgett, and a son-in-law: Dale Brodmerkel.
He is survived by his three children: Karen (Dave) Trimble, Georgetown; Larry (Debbie) Gardner, Hanover Twp.; Kay Brodmerkel, Hopewell Twp.; 8 grandchildren: Angie (DJ Harsh) Hozak; Dave (Kelly) Trimble Jr.; Melanie Barile; Nicole (Tom Littell) Swogger, Nathan (Kelly) Gardner, Brandon (Nicole Zurcher) Brodmerkel, and Dustin (Shawna) Brodmerkel; 16 great grandchildren and three great great grandchildren.
Friends will be received on Sunday, November 20, 2022 from Noon until 4pm in the Huntsman Funeral Home and Cremation Services of Aliquippa. A funeral service will be held on Monday November 21, 2022 at 11 am in Mt. Olivet Presbyterian Church. 4128 Rt. 151 Aliquippa, PA 15001.
Private interment will take place in Mt. Olivet Presbyterian Church Cemetery.
Memorial contributions may be made to Mt. Olivet Presbyterian Church.