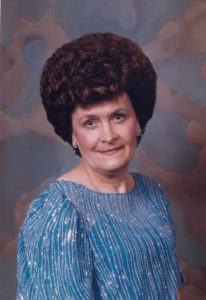 Lois Jean Alexander
Lois Jean Alexander
A mother's love is fashioned after God's enduring love; it is endless and unfailing like the love of Him above.
With heavy hearts, we announce the passing of Lois Jean Alexander, age 89, of Crescent Township, who took her final rest peacefully at her home on November 9, 2022 with her adoring family by her side. She was a devoted wife, proud mother of five children and endearing "Gram" to her many grandchildren and great-grandchildren.
Lois was born in Aliquippa, PA (New Sheffield) to Catherine Elizabeth Healey and Raymond Gray; Catherine later married Frank Otto. Lois was raised, along with her brother, Robert, in her family's home in Bon Meade along Brodhead Road from the time she was four years old, and was so proud of the pony she raised there. In that same home, 85 years later, Lois went to rest in peace and rise in glory. Lois' mother owned and operated Otto's Dairy in Aliquippa, as well as Otto's Nursing Home in Youngstown, OH later in life. At Otto's Dairy, Lois met the love of her life, Grady Alexander, a handsome, charming southern boy who knew just what to say to make a pretty girl from the city swoon. Shortly afterwards, Lois and Grady would wed in his hometown of Cleveland, GA on October 4, 1951, and go on to celebrate 69 years of marriage before Grady's passing on February 9, 2021. Lois and Grady are together again for all time, as it should be.
She was a proud graduate of Aliquippa High School – Class of 1951, where she played in the band, and was always happy to attend all of her class reunions with high school friends. Lois worked at Hawkins Candy Store on Stoops Ferry Road in her teens, but soon became a full-time homemaker, wife and mother to five children, while Grady worked nightshifts at J&L Steel and ran his business (Grady's Auto Sales) during the day with their son, Ron. Lois brought her first child, Cheryl, home from the hospital on October 4, 1952, just in time to celebrate her first wedding anniversary. In those days, she loved to roller skate and make her own special outfits. Lois was truly a beautiful woman inside and out, who enjoyed shopping, craft shows, collecting and fine clothes. She could always find one of her daughters or granddaughters to take her shopping, but everyone who did knew they had better wear comfortable shoes and be prepared to stay until the stores closed as she regularly wore out all who dared to keep up with her. She also thoroughly enjoyed day or weekend excursions with her friends where she could genuinely relax. However, her passion, through snow, ice, sleet or hail, was BINGO. (Mom, we kept our promise and never told Dad when you hit the jackpot!) Above all, Lois loved her family, faith and old southern gospel hymns. She was a member of the former Bon Meade Free Methodist Church, the land for which was gifted by Lois' Mother, a founding member of the church. As a mother and Gram, Lois cherished visits and special occasions with the younger generations of her family more than anything. She taught us all that kindness, commitment to family and hard work were important virtues. Celebrations and holidays were her favorites because she could show off her baking skills, including those utterly perfect world-famous Christmas cookies (no box mixes here).
Lois was preceded in death by her parents, husband and lifelong sweetheart (Grady Alexander), brother Raymond and brother and best friend, Robert Otto.  Lois is survived, and will be forever missed, by her five children – Cheryl (Samuel) Ellis, Carol (Mark) Capuano, Carla (Daniel) Quinn, Rondal Alexander and Todd Alexander; Five granddaughters – Jada (Pedro) Portela, Nia (Jeremy) Bates, Falicia (Mark) Andrews, Laura Alexander (Andrew McDonald) and Amanda Alexander; Nine great-grandchildren – Mila and Zara Portela, Lena, Nigel and Lyra Bates, Brayden, Landon and Cameron Andrews and Isla McDonald; her beloved brother's (Robert) dear wife, Helen Otto, and her loving children – Linda (Edward) Ponikwia, Sandra Otto and Thomas (Caitlin) Otto. She is also deeply loved by many nieces and nephews in Cleveland, GA. 
Lois Jean Alexander was a remarkable woman whose love for family simply knew no bounds. It was a complete, unconditional and enduring love. She was our Queen, our Mother, our Gram, and stories of her selflessness, courage, kindness and compassion will be told by generations of family through the ages. She will live on in the hearts and minds of everyone she touched. We love you, Mom…more and more and more.
Friends will be received on Saturday November 12, 2022 from 2-4 & 6-8PM in the Huntsman Funeral Home & Cremation Services of Moon Twp. (1522 Coraopolis Hts. Rd.) where viewing will also take place on Sunday November 13, from 1PM until time of funeral service at 2PM. Private interment at Sylvania Hills Memorial Park, Rochester, will take place at a later date.