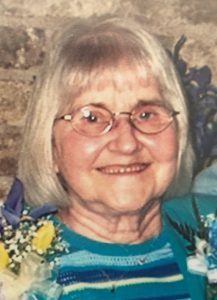 Betty Jane (Oakes) Etzel Rechel
Betty Jane (Oakes) Etzel Rechel
Betty Jane (Oakes) Etzel Rechel, 98, of New Sewickley Twp., passed away on May 29, 2022. She was born on April 14, 1924 the daughter of the late John L. & Weltha (Sexton) Oakes. She was employed by John Brown's Armory in Rochester from age 56 to 82 when she retired. Betty enjoyed attending Chapel Presbyterian Church in Brighton Township. She loved gardening, doing crossword puzzles and crocheting. She crocheted her entire family their own afghan. She was also an avid Pittsburgh Penguin fan and loved to watch birds.
She was preceded in death by: her two husbands, Paul C. Rechel Sr. and Walter E. "Dick" Rechel; two sons, David W. Etzel and Paul C. Rechel Jr.; two babies, Mary Christina Etzel and Norman Bruce Etzel; a sister, Alice (Oakes) Hahn; a brother, John "Jack" Oakes Jr. and a son-in-law, Howard Halfhill.
Betty is survived by her beloved family that consists of: two daughters: Alyce Suzanne (Etzel) Rothstein and Nancy W. (Etzel) Halfhill; a stepdaughter: Kimberly (Rechel) Shaffer and her husband Randy; and a son John C. Etzel (Marla); two daughters-in-law: Linda Etzel and Melissa Rechel MacNeil; 13 grandchildren; 17 great grandchildren and one great great granddaughter; also, several nieces and nephews.
Friends will be received on Friday, June 3 from 2~4 & 6~8pm in the Huntsman Funeral Home and Cremation Service of Rochester. Also, on Saturday from 9:30am until the time of Funeral Service at 10:30am conducted by her pastors: Rev. Steve Maker and Rev. Tom Stein. Private interment will take place in Sylvania Hills Memorial Park.
Memorial contributions may be made to her church: Chapel Presbyterian Church 625 Barclay Hill Rd. Beaver, PA 15009.