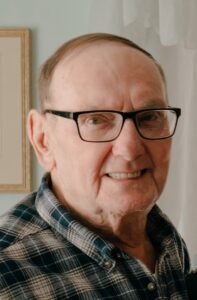 Lawrence "Lonnie" Edward Hill
Lawrence "Lonnie" Edward Hill
Lawrence "Lonnie" Hill, 84, of South Heights, PA went home to be with Jesus on November 12, 2023 in Good Samaritan Hospice at Heritage Valley Beaver. He was born on February 20, 1939 a son of the late William and Virginia Hill. He retired from LTV Steel after 25 years, then he started Lonnie Hill Home Improvements, finally he worked at Montour Country Club for 20 years. He was also an active member of Shannopin United Methodist Church.
Lonnie loved his wife, Janet, the Steelers, golfing, building models of planes and cars; Shannopin Church, and his cat, Tiger. If you asked to borrow a tool, Lonnie would gladly bring it to you, and often even fix the problem for you. He also enjoyed his daily chats with his best friend of 30+ years, Bob Wolicki.
Lonnie cared deeply for the community of South Heights. He was a retired South Heights Borough Councilman and was a dedicated fire fighter with the former South Heights Fire Department for many decades.
He is survived by his wife Janet Hill, 3 children: Donnie Hill (Linda Lesack) Scott Hill, and Debbie (Michael) Fuse; three step children: Lori (Bob) Hasto, Ronald L. Hicks, Jr., Kelly Hicks; and 6 grandchildren: Jeremy Hill, Brittany Hicks, Ashley Pander, Mikey Fuse, Tyler Hill and Andrew Hill; two great grandchildren: River and Brenna Pander; sister Helen Gorby, brother-in-law George Hoschar and forever-daughter-in-law, Debra Colabrese.
In addition to his parents, he was preceded in death by two sons: Eddie and John (Michele) Hill; a sister Charlotte Hoschar and a brother-in-law: Dale Gorby.
A celebration of life will be held on Saturday, November 18, 2023 from 2pm until the time of memorial service at 2:30pm in the Huntsman Funeral Home and Cremation Services of Aliquippa.
In lieu of flowers, memorial contributions may be made to the Beaver County Humane Society or to Good Samaritan Hospice at Heritage Valley Beaver.