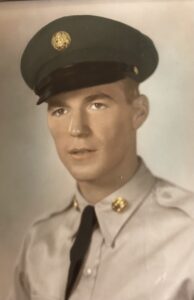 Mike R. Vandine Sr.
Mike R. Vandine Sr.
Mike R. Vandine Sr., 87 of Aliquippa, passed away on Sunday, September 3, 2023 in Rochester Manor. He was born in Carpenter Hollow, Wileyville, West Virginia on September 25, 1935 a son of the late John E and Kittie B. Vandine. He was a graduate of Magnolia High School in New Martinsville, WV. He retired as a millwright with J&L Steel, after retirement he started his own business remodeling homes. He was very patriotic and a proud US Army Veteran. He loved to write poetry, even published two books "Cabin Days" and "Poems from the Heart". Mike enjoyed playing the guitar and harmonica, spending time outside, going "ginsenging", fishing and woodworking.
In addition to his parents, he was preceded in death by his 6 brothers and sisters: Josephine Palmer, Frankie Rush, David Vandine, Isaac Vandine, John Vandine and Roxie Smith.
He is survived by his beloved wife, Jolene Vandine, Rochester; two children: Terry (Eric) Eskew, Rossville, TN; and Mike (Kim) Vandine, Chester, WV; three grandchildren: Saul (Jennifer) Phillips; Casie (Ronnie) Hebrock, and Chase Vandine; six great grandchildren: Gavin, Emberley, Kadien, Kameron, Bo, and Willa Rae; a brother-in-law : Dallas Yoho, and numerous nieces and nephews.
Friends will be received on Thursday from 2pm until the time of Funeral Service at 4pm in the Huntsman Funeral Home and Cremation Services of Aliquippa 2345 Mill St.
The Beaver County Special Unit will offer Military Honors immediately following the Funeral Service at the funeral home.
Private interment will take place in Mt. Olivet Presbyterian Cemetery.
In lieu of flowers, memorial contributions may be made to the Alzheimer's Association. www.alz.org