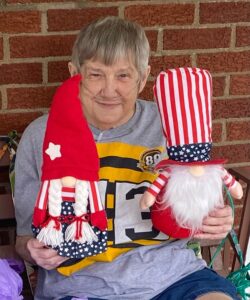 Donna Jean Gillin
Donna Jean Gillin
Donna Jean Gillin, 71 of Hopewell Twp., passed away on Thursday, August 31, 2023 in Heritage Valley Beaver. She was born in Rochester, PA on August 7, 1952 a daughter of the late Arthur and Peggy Gillin. She worked for many years as a cook at Yolanda's and Harold's Restaurants. She was an avid Steeler fan. Donna Jean loved, music, garden gnomes, going to the mountains and to the campground. When she was younger, she enjoyed playing pool and softball. She also enjoyed watching her soap operas, Pittsburgh Today Live, and The Golden Girls.
In addition to her parents, she was preceded in death by 4 siblings: William P. Gillin, Sandara K, Samovoski, Patricia A. Carroll, and an infant brother, Arthur Jr. She was also preceded in death by a brother-in-law: David Samovoski.
She is survived by her longtime friend and companion: Deborah Fedell, Hopewell Twp.; a sister: Linda (Gary) Hoenig, Monaca; a sister-in-law: Christine Gillin, Monaca; a brother-in-law: Dieter Carrol, TX; numerous beloved nieces and nephews and great nieces and nephews.
A Memorial Service will be held on Tuesday, September 5, 2023 at Noon in the Huntsman Funeral Home and Cremation Services of Aliquippa. 2345 Mill St.
Private interment will take place in Sylvania Hills Memorial Park.
Memorial contributions may be made to a charity of your choice.