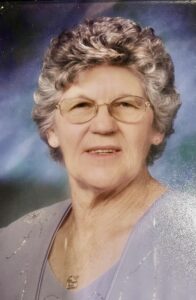 Nancy Tellish
Nancy Tellish
Nancy Tellish 89, formerly of Hanover Twp., passed away on Saturday, May 20, 2023 in Calcutta Healthcare after a courageous battle with Alzheimer's Disease. She was born on June 29, 1933, in Blackwell, Oklahoma a daughter of the late Thomas Walter and Marion Butler.
Nancy was the owner of Tellish Hereford Farm. A member of: Registered Polled Hereford Association; South Side School District School Board from the late 60's to the early 70's, a lifelong member of Mt. Olivet Presbyterian Church and an avid bowler.
Nancy along with Dick McElhaney, established the Beaver County 4H Stockman's Club in 1973, and she was involved in that club for over 20 years. Later in life, she enjoyed traveling and spending time with her grandchildren and great grandchildren.
In addition to her parents, she was preceded in death by her husband Edward Tellish; and her brothers and sisters-in-law: Norman (Gloria) Butler, Sam (Carol) Butler, Thomas (Aurelia) Butler, and Alan Butler.
She is survived by her son and daughter-in-law: Gary E. & Kathleen Tellish, Myrtle Beach, SC; 4 grandchildren: Corey (Nicole) Tellish, Clinton; Michael (Kat) Tellish, Williamsburg, VA; Jason (Erin) Timmons, Helena, AL and Erica Timmons, East Liverpool, OH; 6 great granddaughters: Sage, Rylie, Annabella, and Zoey Tellish and Hannah and Hazel Timmons; her sister and brother-in-law: Leah and John Morena, Irwin, PA; and numerous nieces and nephews. 
Friends will be received on Wednesday from 1pm until time of Funeral Service at 4:30pm in the Huntsman Funeral Home and Cremation Service of Aliquippa.
In lieu of flowers, donations may be made to the Alzheimer's Association https://www.alz.org