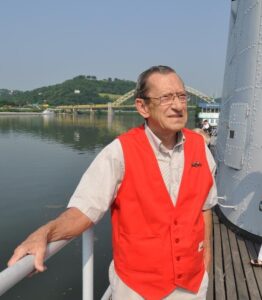 George William Staas
George William Staas
George William Staas, 84, longtime resident of Moon Twp. died on Saturday May 13, 2023. The son of the late George William Staas Sr. and Margaret Nihan Staas was born on the 5th of December, 1938 in Macomb, Illinois. He was the beloved husband of Sandra Staas and loving father of Douglas Alan Staas (Emily Dilts). He was predeceased by his sister Sherrill Blanchard, and leaves behind cousins and numerous other family members in Rockford, Sycamore and Belvidere, Illinois.
He grew up in Woodstock, Illinois where he attended St. Mary Catholic School. He later moved to Memphis, Tennessee and attended Christian Brothers University. As a young boy George would meet Chester Gould, the author of Dick Tracy, at the railway station. Chester Gould would be commuting to Chicago, and George would be picking up newspapers for his paper route. He related many times how Chester Gould always spoke to him and was very kind and friendly.
George proudly served his country in the United States Navy as a submariner. He met his wife when he was stationed at the Rota Naval Base in Spain and she was teaching in a bilingual school in El Puerto de Santa Maria. In 1974, after knowing one another for just 3 months, they got married in Gibraltar, and remained married for almost 49 years. After his years as a submariner George was hired by Westinghouse as an engineer and traveled extensively throughout the United States, Canada, Taiwan, and Spain. He, his wife and son, returned to Spain in 1980 for 4 more years during which time he worked in nuclear power plants in Almaraz and Asco.
Once retired from Westinghouse George had more time to pursue his hobbies of going on cruises, bowling, fishing, golfing, and traveling. One particular place he considered special was Hilton Head Island where he and his wife would cycle along the beautiful beach and throughout the magnificent trails. In addition to enjoying his hobbies, George became a dynamic volunteer guide for the Requin, the submarine located in Pittsburgh. He thoroughly enjoyed meeting the public and telling them with his wry sense of humor about life aboard a submarine. He became a member of the USSVI Requin Base and marched with honor and pride during the many parades he participated in.
George will have private full military honors at his funeral which will take place at the National Cemetery of the Alleghenies.
If desired, donations may be made in his name to the Carnegie Science Center in Pittsburgh, PA.