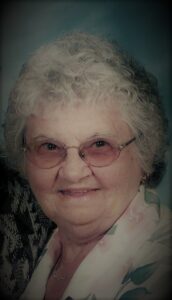 Pauline "Link" Delores Petcovic
Pauline "Link" Delores Petcovic
Pauline "Link" Delores Petcovic, 91 of New Sewickley Twp., passed away unexpectedly on Sunday, March 5th, 2023 in Heritage Valley Beaver. She was born in Neffs, Ohio on May 22nd, 1931, the 12th child of the late Stephen and Susie Phillips. She was preceded in death by her siblings: John, Frances, Louis, Joe, Paul, Sister Agnes, Susan "Hun", Margaret, Josephine "Betty", Marie, and Anna. She often told stories about growing up on the farm and many of her family members reminisce about the family garden and house full of cousins.
In her younger years, Pauline worked at National Electric in Ambridge as a welder. It was during this time that she met Paul Petcovic, her beloved husband of 56 years who passed away in December of 2013. For their first date, Paul pulled up with a new pink and gray Pontiac. Pauline used to say: "It was killer".
Pauline retired from Freedom Area Schools working in the cafeteria. She was a longtime and active member of St. Felix Roman Catholic Church where she was a Christian Mother. She was an avid knitter and crocheter, she loved Polka, Slavic foods, playing cards and other games. She was a member of the Croatian Club in Conway and the Slovene National Benefit Society. Making friends came easy to her, and she kept an active social life into the 9th decade of her life. 
Truly, Pauline was an extraordinary mother, grandmother, and great-grandmother. Paul and Pauline loved unconditionally. She is survived by her three children: Mark (Julie) Petcovic, Rogers, OH; Monica Petcovic, Wilmington, NC; and Steven (Sandy) Petcovic, Raccoon Twp.; 4 grandchildren: Hannah (Joe) Myers, Adam (Desirea) Petcovic, Forrest (Lexi) Petcovic, Brooke (Joey) Petcovic; three step grandchildren: Billy (Kirsten) Walls, Jesse (Lacey) Walls and Raquel Stasiowski; 4 precious great grandchildren: Archer & Sage Petcovic, Carey Myers, and Stella Walls. She is also survived by 3 siblings Kathleen "Babe", Mildred "Mick" and Steve, as well as her special friend, Opie.
Friends will be received on Thursday from 2~4pm and 6~8pm in the Huntsman Funeral Home and Cremation Services of Rochester.  A Mass of Christian Burial will be held on Friday at 11 am at Our Lady of the Valley St Felix Church, followed by interment in Calvary Cemetery and funeral wake at the church hall. 
Memorial contributions may be made in Pauline's honor to Our Lady of the Valley, St Felix