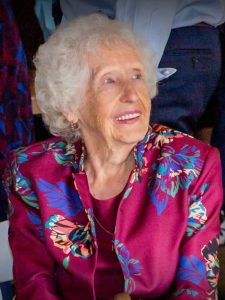 Thelma Lorraine Gill
Thelma Lorraine Gill
Thelma Lorraine Gill, 90 of Hopewell Twp., passed away on Saturday, September 17, 2022 in Heritage Valley Beaver. She was born in Aliquippa, PA on April 26, 1932 the daughter of the late Lawrence and Irene Roberson. She was a long time and active member of New Life Presbyterian Church in Hopewell. She adored spending her time with her children, grandchildren and great grandchildren, they were her life. She also enjoyed volunteering at the Aliquippa Hospital and with the PTA.
In addition to her parents, she was preceded in death by her beloved husband, Louis Gill in 2019.
She is survived by her four children: Vincent (Judy) Gill, Raccoon Twp., Dennis (Susan) Gill, Jeannette, Kevin (Beth) Gill, Center Twp., and Diane (Delbert) McBane, Hopewell Twp.; 8 grandchildren: Michael (Jessica) Gill, Jason (Megan) Gill, Timothy (Erin) Gill, Carrie (Matthew) Karn, Jeremy (Bridget) Gill, Jeffrey (Rebecca) Gill, Marissa Geddes, & RJ (Rebecca) Whitelock; 11 great grandchildren: Bowman, Morgan, Logan, Gabriel, Bella, James, Liam and Micah Gill, Kamryn Geddes, Elise & Lainey Whitelock; and a God-great granddaughter: Jaelynn Anderson.
Friends will be received on Wednesday, September 21, 2022 from 2~4pm & 6-8pm in the Huntsman Funeral Home and Cremation Services of Aliquippa 2345 Mill St. Aliquippa. Also on Thursday, from 10 until the time of Committal Service at 10:30am in the funeral home. A Memorial Service will be conducted on Thursday, September 22, 2022 at 11am in New Life Presbyterian Church 2795 Patterson Dr. Aliquippa, PA 15001.
Private interment in Woodlawn Cemetery.
In lieu of flowers, memorial contributions may be made to New Life Presbyterian Church.