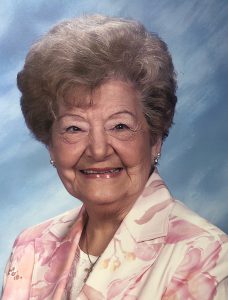 Virginia B. Sieger
Virginia B. Sieger
Virginia B. Sieger, 95 of Rochester Township, passed away peacefully in her sleep on Wednesday, September 14, 2022. She was born in Rochester, PA on May 2, 1927 a daughter of the late Albert H. & May Bangor. A longtime and active member of Faith Community United Methodist Church of Rochester. Her greatest happiness came from spending time with her family, cooking Sunday dinner, traveling and celebrating holidays with them.
In addition to her parents, she was preceded in death by her husband Albert J. Sieger Sr. in 1998, a daughter-in-law Nancy Sieger; and 4 siblings: Eleanor Frederick, Grace, Albert and Dorothy Bangor.
She will be sadly missed by her loving children: Albert J. (Mary Jo) Sieger Jr., Kevin Sieger, and Pamela (Robert) Gill; six beloved grandchildren: Lauren (Matt) Harley, A.J. (Alexus) Sieger III, Karisa (Michelle Kean) Sieger, Garrett Sieger, Tyler (Megan) Gill, and Grant (Abigail) Gill; 4 great grandchildren: Alaina & Justin Harley, Kinsley & Khloe Sieger, and Emmett Sieger; a brother: P. Dean (Salle) Bangor; a sister: Ruth Wilson; and many nieces, nephews, and close friends.
Friends will be received on Tuesday, September 20, 2022 from 2pm until 7pm in the HUNTSMAN FUNERAL HOME AND CREMATION SERVICES OF ROCHESTER. A funeral service will be held on Wednesday, September 21, 2022 at 11am in Faith Community United Methodist Church with her minister, Rev. Luke Whipple officiating.
Interment will follow in Sylvania Hills Memorial Park.
Memorial contributions may be made to Faith Community United Methodist Church of Rochester. 341 Jefferson St. Rochester, PA 15074