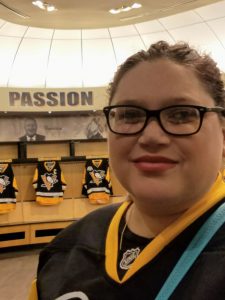 Tricia Marie Tuccinard
Tricia Marie Tuccinard
Tricia Marie Tuccinard, 34 of Center Twp., passed away suddenly on Wednesday, August 24, 2022 in her home. She was born in Beaver, PA on February 19, 1988 the daughter of Timothy and Barbara Tuccinard. She was a huge Pittsburgh Penguin Fan. She loved going to Penguin games and traveled to numerous different arenas to watch the Pens. She also enjoyed baking and giving food to her beloved family. She was a member of Our Lady of the Valley Parish (St. Cecilia Church).
She was preceded in death by her paternal grandparents Phillip and Mary Jane Tuccinard.
She is survived by her parents, Timothy and Barbara Tuccinard; a brother Tim Tuccinard; a sister Tracy Tuccinard; her maternal grandparents: Donald and Florence McClinton; Great Aunts: Dorothy Verban, Connie (Sonny) Javens, Clara (Bob) Rockar, and Karen Aliquin; Aunts & Uncles: Greg (Natalie) McClinton, David McClinton, Tammy Kaminsky, Terri Tuccinard, Nick (Darlene) Tuccinard, P.J. Tuccinard, and Roberta Erlwien; her godmother, Sue Jamery; her godson: Henry Kaminsky; and numerous beloved cousins.
Friends will be received on Sunday, August 28, 2022 from Noon until 4pm in the Huntsman Funeral Home and Cremation Service of Rochester. A Mass of Christian Burial will take place on Monday, August 29, 2022 at 10am in Our Lady of the Valley Parish (St. Cecilia Church) EVERYONE PLEASE MEET AT CHURCH 632 Virginia Ave. Rochester.
In lieu of flowers, memorial contributions may be made to Make-A-Wish in Tricia's memory at www.wish.org.