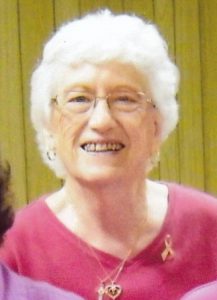 Clara L. Anderson
Clara L. Anderson
Clara L. Anderson, 94, of Hopewell Twp., died on Thursday August 11, 2022 in Allegheny General Hospital. She was born in Buckhannon, WV on February 8, 1928, the daughter of the late Everett R. & Lois (Hiner) Hinzman.
Clara worked as a sales clerk for many years. She was a member of the First United Methodist Church of Aliquippa, where she served as an officer in the UM Women, and the Christian Women's Club.  She was a member of the Woodlawn #164 Order of the Eastern Star and the Hopewell Civic Club, and the Friendship Bible Study.  Clara loved to travel, play bingo and enjoyed painting, make crafts at the assisted living facility.
In addition to her parents, she is preceded in death by her husband, Fred R. Anderson in 1983. Her three sisters, Gertrude Bennett, Melva Goad, Tina Browning, and a brother, James O. Hinzman.
She is survived by her four sisters: Geneva Brady, OH; Roberta Fulton, PA; Anna Jean Kelly, MN; Lee Ellen Carpenter, NC, and many nieces and nephews.
Friends will be received on Monday August 15th from 2-6PM in the Huntsman Funeral Home & Cremation Services of Aliquippa (2345 Mill St.) and also on Tuesday from 10AM until time of Funeral Service at 11AM in the First United Methodist Church of Aliquippa. Officiated by Pastor James Sands and assisted by Rev. Thom Bonomo.  Entombment will follow at Woodlawn Cemetery.
Memorial contributions can be made to, the First United Methodist Church of Aliquippa (2816 Brodhead Rd., 15001)