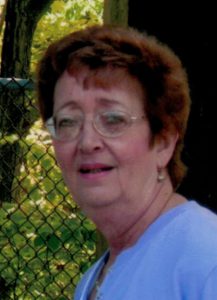 Donna J. McClure Brosky
Donna J. McClure Brosky
Donna J. McClure Brosky, 81, of Aliquippa, passed away on Friday, July 29, 2022 in Moon Township Wellness and Rehab.  She was born in Aliquippa, PA on March 22, 1941 the daughter of the late Blair and  Betty MacKenzie.  She worked as a bartender locally for many years, mainly working at The Fez and J.W. Halls.  She loved spending time at the casino. 
In addition to her parents, she was preceded in death by her three husbands; Robert McClure, Jim Albright, and Bill Brosky; as well as her twin sister Lonna Skolnekovich.
She is survived by her two children: Robert & Maryann McClure, Marlton, NJ; and Judy & David Katus, Burgettstown; 6 grandchildren: Sabrina and Sydney McClure; David (Nikki) Katus, Nathan Katus, Zachary (Lexi Wiess) Katus and Rachel (Grant) McCarty; 3 step grandchildren: Steven (Nicole) Murray, Chris (Katie) Murray, and Trevor Carr; 10 great grandchildren; and three sisters: Betty Mae Colangelo, Beaver; Audrey (Stanley) Underwood; Crescent Twp.; and Gladys (Charles) Simmons, Dayton, OH.  
Friends will be received on Wednesday, August 3 2022, from 3pm until 7pm, also Thursday, August 4, 2022  from 10am until the time of Funeral Service at 11am in the HUNTSMAN FUNERAL HOME AND CREMATION SERVICES OF ALIQUIPPA. 2345 Mill St.
Interment will follow in Woodlawn Cemetery.