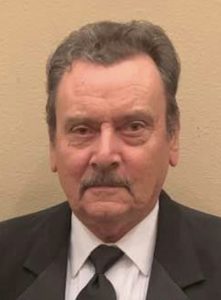 Keith Edward McClester
Keith Edward McClester
Keith Edward McClester, 74 of Calcutta, OH passed away unexpectedly on Tuesday, July 26, 2022 in his home. He was born in Rochester, PA on November 29, 1947 the son of the late Leonard Keith & Grace (Miller) McClester. He was retired from Col-Fin Specialty Steel where he was an Annealing Furnace Operator.

Keith was an active member of the First United Methodist Church of Aliquippa where he participated in the choir, a former Youth Co-Director, and was a Trustee. A US Army Veteran serving during Vietnam era in Germany and a member of F&AM Lodge #681, East Liverpool and St. James Lodge #457, Beaver. He was also an active member of the Order of the Eastern Star Chapters: Woodlawn #164, Beaver and Crystal #18, East Liverpool.
He is survived by his beloved wife Grace; three children: Jesse L. McClester, Jenny (McClester) Koschack, and Darlene McClester; 3 grandchildren: Joie Szuch, Madelynn McClester, and Alana Koschack; three sisters: Marlene (Ronald) Morris, Denice (Charles B.) Coleman, Paula (Tim) Cope; nieces and nephews; Brian (Amy) Morris, Brianne (Nick) Bergman, Jason (Tina) Coleman, Brad (Lee) Coleman, and Brandon & Sara Kraus; great nieces and nephews: Cora, Callie, Cameron, and Lucy Coleman; Elizabeth Bergman, and an uncle Dean (Zora) Miller.
Friends will be received on Thursday, July 28, from 2~4 & 6~8pm in the Huntsman Funeral Home and Cremation Service of Aliquippa. 2345 Mill St. Also on Friday, July 29, from 10am until the time of Funeral Service at 11am in the First United Methodist Church of Aliquippa.  Private interment will take place in John Anderson "Service Presbyterian Church" Cemetery.
Attending members of F&AM Lodges #681 & #457 will conduct a Masonic Service on Thursday at 7pm.
Order of the Eastern Star will conduct their service, on Friday.
The members of the Beaver County Special Unit will conduct Military Honors after the funeral service.
Memorial contributions may be made to the First United Methodist Church of Aliquippa. 2816 Brodhead Rd. Aliquippa.