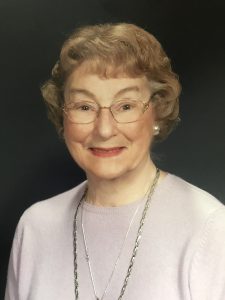 Barbara Van Ormer Follett
Barbara Van Ormer Follett
Barbara Van Ormer Follett, 92, of Hopewell Twp. passed away on Wednesday, July 13, 2022 in Apple Blossom Senior Living. She was born in Beaver Falls, Pennsylvania on August 7, 1929 the daughter of the late Lawson and Naomi Van Ormer. A graduate of West Chester State College, also pursuing additional studies at Geneva College and Penn State University. She was retired form Aliquippa School District, where she taught first grade and music for 21 years. She was an active member of Prince of Peace Anglican Church in Hopewell. She was also the organist for many years at Grace Lutheran Church. She was a member of the Pennsylvania Association of School Retirees.
In addition to her parents, she was preceded in death by her husband Donald F. Follett in 2003.
She is survived by two sons; William L. & Michelle Follett, Cranberry Twp., and Douglas F. & Holly Follett, Hopewell Twp.; a niece: Leslie (Andy) Anderson: 7 grandchildren: Brad Freda, Nicole (Zach) Hotaling, Benjamin (Amanda) Follett, Daniel (Sharayah) Follett, Elizabeth (David) James, Patrick Follett, and James Follett; 6 great grandchildren, Madelynn, Ella, Harper, Hailey, Abby, Izzy,; and her sister: Ruth Shaul, Richmond Hills, Georgia.
Friends will be received on Monday, July 18, 2022 in the Huntsman Funeral Home and Cremation Services of Aliquippa from 9:30am until 11:30am. A Funeral Service will follow at Noon in Prince of Peace Anglican Church.
Private interment will take place in Sylvania Hills Memorial Park.
Memorial contributions may be made to Prince of Peace Church 1314 Gringo Road Aliquippa, PA 15001