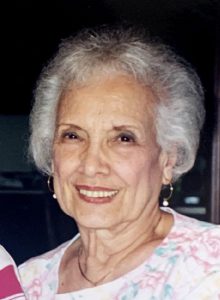 Helen Laris Frederick
Helen Laris Frederick
Helen Laris Frederick, 100 of Rochester, passed away on Wednesday January 12, 2022, in Rochester Manor. She was born in Aliquippa on September 30, 1921, the daughter of the late Louis and Virginia Peterson. She was a retired accountant working for Presto Contracting, Sam Piccinini Contractor and the Salvation Army. A longtime member of Kimisis Tis Theotokou Greek Orthodox Church in Aliquippa. She was a member of the former Rochester Business Women's Club and a member of the Ladies Philoptochos Society and Senior Citizens at her Church.
In addition to her parents, she was preceded in death by her husband August Frederick in 2004, a son Michael in 2019, her brothers and sister-in-laws: Marcus (Grace) Peterson, George (Kathleen) Peterson, and Leo (Margaret) Peterson.
She is survived by her son Dr. Lee (Tracy) Laris, a grandson Destry; a grandson Michael P. Laris (Jannasue), and great grandsons Luke Laris and Mason Matteo; niece: Sharon Peterson; nephews: Louis (Amy) Peterson, Daniel (Leslie) Flara, and numerous great nieces and nephews.
Family and Friends will be received on Saturday, January 15 at Kimisis Tis Theotokou Greek Orthodox Church from 10:00 AM until the time of Service at 11:00 AM. Interment will follow in Woodlawn Cemetery in Aliquippa.