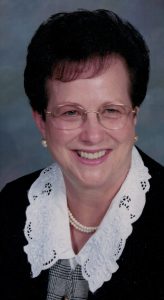 Shirley A. Stong
Shirley A. Stong
Shirley A. Stong, 86, formerly of Moon Twp., passed away on Sunday, November 28, 2021 in Concordia Villa St. Joseph. She was born on December 24, 1934 in Huntingdon, PA the daughter of the late Jackson and Madeline Curry. She was a former member of Zion Lutheran Church and The First Baptist Church of Coraopolis. Her faith was very important to her. Shirley enjoyed spending her time volunteering with her church, but her main love was her family. She especially enjoyed her great grandchildren.
In addition to her parents, she was preceded in death by her beloved husband Charlie Stong in 2007.
She is survived by her loving daughter: Sharon & Leroy Shick, Hopewell Twp.; 2 grandchildren: Jamie (Keith) Cunningham, and Christopher Shick; 4 great grandchildren: Brayden, Brody, Paisley and Parker; a sister: Phyllis McCarty and a niece Wendy Spayd.
All services are private. Interment will be in the Alexandria Presbyterian Cemetery, Alexandria, PA.
Memorial contributions may be made to St. Jude at www.stjude.org/donate