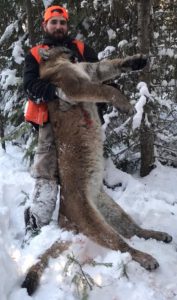 David Michael Koch Jr.
David Michael Koch Jr.
David Michael Koch Jr., 30 of North Sewickley Twp., passed away on Wednesday, June 30, 2021 in Corpus Christi, Texas.  He was born on February 24, 1991 the son of David M. Koch Sr.  and Pamela (Inman) Dietrich.  He was a Safety Manager working in Texas for Performance Contractors Inc. He graduated Riverside High School and Slippery Rock University.  David was an avid sportsman, spending the majority of his time where he loved to be, outdoors with his family, hunting Caribou in Canada, Mule Deer and Antelope in Wyoming, Moose in Newfoundland and Mountain Lion in Montana. He especially enjoyed running his dogs Jr's Dizzy Dot and Buddy racoon hunting. He was a member of the Bridgewater Presbyterian Church.   He was preceded in death by his paternal grandparents: Melvin and Lena Koch, Ellwood City.  He is survived by his beloved parents: David (Debbie Jones) Koch Sr., Rochester Twp. and Pamela (Jeff) Dietrich, North Sewickley; his brother: Matthew (Kylie Hebert) Koch; sisters: Kathy (Nate) Clark, Mary (Branden) Tyler, Khris Dietrich, Marcy (Jerry) Wilson, and Sylvia Ruck; his maternal grandparents: Ernest & Barbara Inman; his aunts and uncles: Judy Koch, Lisa Koch, Dennis (Laurie) Koch, Mark Inman, & Bruce (Holly) Inman; nieces: Mikayla Dietrich, Lena Anderson and Piper Tyler, nephews: D'Adrian Dietrich, Dominic Anderson, Aiden and Layne Clark, his girlfriend: Chelsey Parisi-Brognano and numerous cousins.  We would also like to recognize his lifelong "brother" Ian Farmer and all his Performance Family.  Friends will be received on Sunday July 11, 2021 from 2pm until 7pm in the Huntsman Funeral Home and Cremation Services of Rochester. Where a service will be held on Monday at 11am conducted by Pastor McNeel  Interment will follow in Sylvania Hills Memorial Park.  In lieu of flowers the family is asking for donations to be made to Hunt of a Lifetime Foundation, PO Box 241 Harborcreek, PA 16421 or   Welcome | Hunt Of A Lifetime.  An organization dedicated to sending terminally ill children on a Hunt of a Lifetime of their choice.