Doris D. Weaver
Doris D. Weaver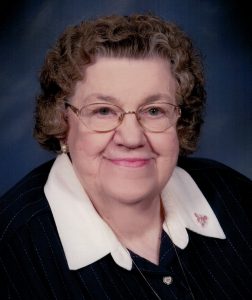 Doris D. Weaver, 89 of Aliquippa, passed away on Saturday November 3, 2018 in Shady Side Hospital.  She was born in Aliquippa on October 8, 1929 the daughter of the late Benjamin Ellsworth & Susanna (Rusbosin) Davis. She was a secretary for Aliquippa High School and worked at Aliquippa Hospital as the executive secretary and insurance clerk.
Doris was an avid collector of nativity scenes.  She enjoyed reading, delivering meals on wheels, and being a scout leader. She was a member of the First United Methodist Church of Aliquippa for 78 years, where she was a Sunday School teacher, the first female lay leader and the first female trustee chair.  She also served on many committees within the church, the district, and the conference.  Her greatest enjoyment in life was being a wife, mother and grandmother.  She loved all of her family dearly.
In addition to her parents, she was preceded in death by her husband Lawless Alvin Weaver in 1999, as well as 7 siblings: Mary Davis, Rosella Eazor, Cecelia Paxton, Benjamin Davis Jr., Lewellyn Davis, Harry Davis and Ora Davis.
She is survived by her daughter and son-in-law: Rev. Alyce Weaver Dunn and Rev. Keith Dunn, Gibsonia; her son and daughter-in-law: L. Alan Weaver & Melinda (Roman) Weaver, Richmond, VA: a granddaughter: Amelia M. Weaver and husband Douglas Peppel; a grandson: Joshua R. Weaver.; a sister Maude Lansberry; 2 sisters-in-law: Aldene Gabany, and Sylvia Davis; and a very special niece: Nancy & Ralph Baker. She is also survived by numerous nieces and nephews.
Friends will be received on Wednesday from 2~4 & 6~8pm in the Huntsman Funeral Home and Cremation Services of Aliquippa. Also, from 10am until the time of funeral services at 11am in the First United Methodist Church of Aliquippa. 2816 Brodhead Rd.
Private interment will take place in Allegheny County Memorial Park.
Memorial contributions may be made to the First United Methodist Church of Aliquippa.