Louis J. Koutoulakis
Louis J. Koutoulakis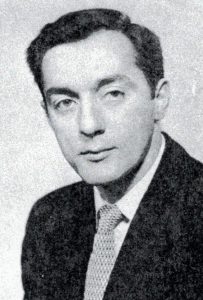 Louis J. Koutoulakis, 89, of Hopewell Township, passed away peacefully in his residence on Thursday, November 1, 2018 surrounded by his family.
Louis was born on April 9, 1929 in Rochester, PA to the late James and Georgia (Stangas) Koutoulakis.
He was a graduate of Rochester High School in 1947 and of Garfield Business School in 1948.  He attended Geneva College from 1948 – 1951, and was called to active duty with the US Army, serving in Korea from 1951-1953.  He earned a Bachelor of Science degree in Business Administration from Geneva College, graduating in 1954.
Louis retired from Ampco Pittsburgh, Wyckoff Steel Division in Ambridge where he was a chief billing clerk or as he liked to say "a pencil pusher".  He was active in the WYSE Credit Union.  Louis was also an active member of the Dormition Greek Orthodox Church in Aliquippa where he served as a Sunday School teacher and former parish council member.
Louis is survived by his wife of 54 years, Nancy (Raub), daughters and sons-in-law Kathryn and Christopher Lutz of Stephens City, VA and Kristine and Eric Stedeford of Franklin Park,  and grandchildren Amanda and Sarah Lutz and Zachary, Maximos, and Augustus Stedeford.  He is also survived by his brother and sister-in-law Nick and Anastasia Koutoulakis of Valencia, PA, brother-in-law and sister-in-law Allen and Charlotte Raub of Roseville, CA, and goddaughter Diane Davliakos of Valencia, PA.
Louis was preceded in death by his parents, in-laws, Louis and Elizabeth Raub, and brother and sister-in-law Aristedes and Irene Koutoulakis.
Friends and family will be received on Sunday from 1-4pm and 6-8 pm at the Huntsman's Funeral Home and Cremation Services, 2345 Mill Street, Aliquippa, PA.  Trisagion service will be held at 1:30 pm at the funeral home.
A funeral service will be held Monday at 10:00 am at the Dormition Greek Orthodox Church, 2111 Davidson Street, Aliquippa, with Father Dr. Stelyios Muksuris officiating.   Interment will follow at Beaver Cemetery, Beaver. Where the members of the Beaver County Special Unit will conduct military honors at 11:30.
Memorial donations may be made to Dormition Greek Orthodox Church, 2111 Davidson Street, Aliquippa, PA 15001.
The family wishes to thank Kindred Hospice for the care and comfort that they provided.