Audrey A. Galosi
Audrey A. Galosi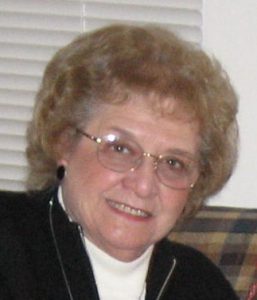 Audrey A. Galosi (age 84) of Moon Township, PA., passed away peacefully at her home on December 22, 2017. She was born January 16, 1933, in Derry, PA., the daughter of the late Pat and Mary (Cipullo) Petrarca.
Audrey graduated from Derry Borough High School in 1950 and Seton Hill College in 1954. She married her late husband, James Galosi, in June 1957 in Derry.
After graduation, Audrey taught Home Economics in the Lower Burrell schools and assisted as a substitute teacher at St. Therese Catholic School in Munhall. They lived in Munhall for 15 years before moving to Cincinnati, Ohio in 1976.
Continuing in a role that she loved, Audrey spent many years as a substitute teacher in the Cincinnati Parochial Schools and the Sycamore School District. Most of her days were located at the Edwin H. Greene School in Blue Ash, Ohio. She enjoyed the interaction with the students, the camaraderie of the other teachers, and especially the grilled cheese sandwiches for lunch. Many of the teachers knew they could count on Audrey to fill in at a moment's notice. She was a dedicated teacher for over 40 years.
While living in Cincinnati, Audrey was a member of St. Vincent Ferrer Catholic Church in Kenwood. Ohio. Also, she served as a member of the Saint Vincent Ferrer Alter and Rosary Society and the Prayer Chain. Audrey gave Holy Eucharist to patients at the Jewish Hospital in Kenwood. She had a large circle of friends and neighbors in the Cincinnati area that she kept in touch with.
Audrey moved back to the Pittsburgh area in September 2014 and became a parishioner at Saint Margaret Mary Catholic Church in Moon Township.
In addition to her parents, Audrey was preceded in death by her husband of 57 years, James Galosi, her brother Eugene Petrarca, her sister Eleanor Roman, and her granddaughter Megan Galosi.
Audrey is survived by her son Matthew Galosi and his wife, Susan, of Katy, TX; her son Martin Galosi and his wife, Maria and two grandchildren, Luke and Sarah, all of Moon Township, PA. She is also survived by several nieces and nephews.
The family would like to thank the service providers from Home Instead Senior Care for their loving care and support for Audrey. In lieu of flowers, the family is honoring Audrey's request for donations in memory of Megan Galosi to: Make-A-Wish of Texas Gulf Coast & Louisiana (12625 Southwest Freeway, Stafford TX 77477)
Friends will be received on Thursday December 28th from 2-5 PM in the Huntsman Funeral Home & Cremation Services of Moon Twp. (1522 Coraopolis Hts. Rd) Mass of Christian Burial will be on Friday 10 AM in St. Margaret Mary Parish, Moon Twp (Everyone please meet at the church). Private interment will take place at St. Joseph Cemetery, Derry PA.