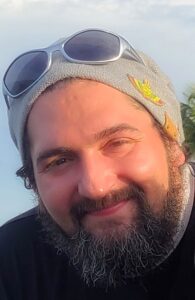 Nathaniel Saul Rossi
Nathaniel Saul Rossi
Nathaniel Saul Rossi of Crescent Township, passed away peacefully on Wednesday November 8, 2023, surrounded by his wife, mother and a sister where he met his ultimate destiny to rejoice forever with his Savior and King, Jesus Christ. He was born in Sewickley to Janice Lynn (Hribar) Rossi & the late Frank F. Rossi Jr.
Nathaniel is survived by his beautiful wife of ten years, Laura Erika (Mann) with whom he shared the last eighteen years of his life in a committed relationship; his loving mother, Janice Rossi; two sisters, Rachel Rockwell (Willard III) and Katelyn McWilliams (Joshua); one brother, Nicholas Rossi (Josh); three nieces and five nephews, as well as many beloved aunts, uncles, cousins and in-laws, Rayford A. Mann and Marilyn S. Mann with whom he shared many close bonds of friendship.
Since graduating from PA Cyber Charter School, he obtained training in the trade of plumbing and worked as a journeyman for several years.
His charismatic personality was known to many. He had a heart full of love and compassion and he was empathetic to the concerns of others. He always said that, "You have to meet people where they are in life." And he did just that with the numerous people from all walks of life with whom he met and had fellowship. No one was of neither too great nor too low a station in life for him to relate to and he did so humbly.
With an inquisitive mind that accompanied him since his youth, he always wanted to search for the deeper meaning of things and wasn't afraid to ask the questions that others dared not ask. He was a history enthusiast and enjoyed in particular Biblical knowledge which was relevant to his personal relationship to Jesus Christ. He was intellectually quick, powerful and profound and read widely while mastering questions of world affairs. His vocabulary was extensive and rich and he was a great conversationalist. He was capable of moving you to laughter and tears in a short span as his expressions were always charged with emotion.
Nathaniel was a nature lover; he enjoyed all aspects of farming pursuits. He loved camping and always had the best seasoned food that he loved to share with others. He thoroughly enjoyed all genres of music and enjoyed attending concerts with his wife and close friends.
Above all, he was a devoted husband. His "one love" in life loved him through his greatest accomplishments and supported him unequivocally in his life's most trying defeats. Their love stands, "ever and ever" as a testimony to their mutual shared faith in the person of Jesus Christ.
Nathaniel was preceded in death by his father, Frank Rossi, Jr., a sister, Alyssa Marie Rossi, his paternal grandparents, Frank and Mary Rossi, and maternal grandparents, John and Diane Hribar.
Friends and relatives will be received on Friday November 17th from 5-7PM in the Huntsman Funeral Home & Cremation Services of Moon Twp. (1522 Coraopolis Hts. Rd.) and also a funeral service officiated by the Rev. Rich Liptak will be held on Saturday at 10:30AM at the same location. Interment will follow at the Union Dale Cemetery, (2200 Brighton Rd.) Pittsburgh.
In lieu of flowers, memorial contributions can be made to his widow.
Venmo @Laura-rossi-25