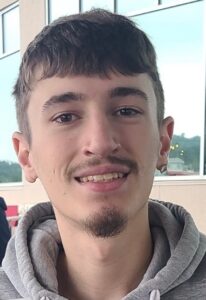 Hayden Andrew Ryan
Hayden Andrew Ryan
Hayden Andrew Ryan, 18, of Moon Twp. passed away on October 30, 2023 in Allegheny General Hospital after a tragic car accident. He was born in Weston West Virginia on March 15, 2005 the son of Andrew Ryan & Quinn (Yochym) Ryan and step father Chip VanAlsburg.
Hayden graduated from Moon High School class of 2023. He earned his welding and fabrication certification from Parkway West Career & Tech Center. He also earned his certification for dealing table games from C.C.A.C. He was working as a table games dealer at Rivers Casino. Hayden enjoyed being the best big brother to Ethan and looking up to and idolizing his big brother Alec. Hayden enjoyed swimming at the river with his friends, spending time with Hayleigh, listening to music, gaming, shooting guns, hunting, campfire chats, riding his bike, playing with Remy and fishing (but not really). Hayden was a jokester who loved to play pranks. Hayden's favorite holiday was Halloween! Hayden dreamed of building his own successful business.
Hayden is proceeded in death by his "Gran" Donna Yochym, his "PaPa" Roger Ryan, and his fur babies Max, Leo, Sassy and Heidi.
In addition to his parents, Hayden is survived by a sister, Delaney "Apple" Ryan, brothers, Alec Yochym and his girlfriend Maddie, his little brother Ethan Ryan, Hayden's long-term girlfriend Hayleigh and his fur baby Remy.
His extended family in WV included "Granddad" Greg Yochym, Aunt "C" and Uncle "T" Shreves, cousins Brody and Brent Shreves, several great Aunts, one great uncle and many cousins. His extended family in SC included " Na-Na " Ryan, Aunt Maeghan, Great Aunt Bonnie and Great Uncle Robert Ford, and several cousins. His many good friends included Cody, J.J. , Sam, Kodee, Malique, Jack his brother from another mother , his two sleepover besties Em and Ash as well as many childhood friends that he held so close to his heart.
Hayden had the kindest heart that we have ever known.
Friends will be received on Saturday November 4th from 2PM until time of Service at 7PM in the Huntsman Funeral Home & Cremation Services of Moon Twp. (1522 Coraopolis Hts. Rd.)
In lieu of flowers memorial contributions may be made to: Michael Trella Foundation and/or Parkway West CTC Welding and Fabrication program.