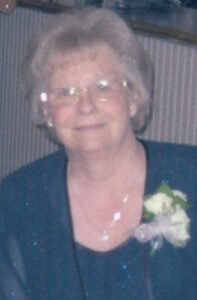 Edythe E. Lioi
Edythe E. Lioi
Edythe E. Lioi, 93, of Moon Twp., passed away on Tuesday, September 19, 2023 in her home peacefully surrounded by her loving family. She was born in Pittsburgh, PA on November 16, 1929 the daughter of the late H. Lawrence and Mary Dorothy Ehalt. She was a member of Most Sacred Heart of Jesus Parrish attending St. Margaret Mary Church. She worked for K&G Flower Shop in Moon Twp. and she ran the snack bar at Nautilus in Moon. Edythe loved to read and knit, but most of all she loved her family. She was famous for her homemade bread and how she never missed a holiday or birthday with sending greeting cards.
In addition to her parents, she was preceded in death by her husband Anthony Lioi; a brother Richard Ehalt, sister Helen Ward, and a great granddaughter Aubrey Read.
She is survived by her six children: Anthony (Kathy) Lioi, Patricia (Ray) Langer, Robert (Anita) Lioi,  Chuck (Rick Tamlyn) Lioi, John (Tracy) Lioi, and Thomas Lioi; Grandchildren: Michelle (Christopher) Read, Michael Dupain, Melissa (Joshua) Balcerek, Jared (Ashley) Lioi, Charlene (Dixon) Revell, Andrew (Mallory) Faherty, Christopher (Deirdre) Lioi, Tyler and Cara Lioi, Matthew, Kelsey, Brandon, Megan, Jenna, and Brittany Lioi; step granddaughters: Kathy and Judy Langer; great grandchildren: Sydney and Amelia Balcerek, Dylan and Kylee Read,  Henry, Letty, and Charles Revell, Sutton Lioi, Mason Lioi, and Charlie Lioi; sisters: Carole McGongile and Catherine Traficante; and a brother: John Ehalt and many nieces and nephews.
Friends will be received on Saturday, September 23, 2023 from 6~8pm, Sunday, September 24, 2023 from 2~4pm and 6~8pm in Huntsman Funeral Home and Cremation Services of Moon Twp. A Mass of Christian Burial will take place on Monday at 10 am in St. Margaret Mary Church. Everyone please meet at church.
Interment will follow in Resurrection Cemetery.
In lieu of flowers, memorial contributions may be made to Good Samaritan Hospice, 116 Browns Hill Road, Suite 100, Valencia, PA 16059 or to the Moon Township Volunteer Fire Department 1000 Beaver Grade Rd. Moon Twp., PA 15108