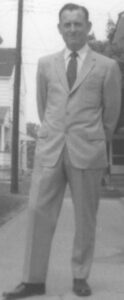 James (Jim) Robert Young
James (Jim) Robert Young
James (Jim) Robert Young, Sr., 95, of Aliquippa, passed away on May 21, 2023. He was born on September 24, 1927, in Woodlawn, PA, at home, on Oliver Street, in the "Bricks." He was the only son of the late James Alexander and Ruth Elizabeth (Yarnell) Young. Preceding him in death, in addition to his parents, were his loving wife of 62 years, Margaret L. (Saxon) Young; mother- and father-in-law, John and Anna Florence (Lancos) Saxon; his brother-in-law, Sam McMutrie; brother- and sister-in-law, Mike and Joyce (Teal) Saxon; brother-in-law, George Saxon; brother- and sister-in-law, Bob and Toni (Tonachella) Saxon; and brother- and sister-in-law, John and Carol (Banks) Saxon; niece, Cathy Saxon; and nephews, Bill, Jim and Richard Saxon. Jim is survived by his daughter, Pat (Mike) Baker, W. Melbourne, FL.; daughter, Kathy (Jon) Comis and granddaughters, Emma and Anna, Scott Township, PA; son, Jim (Lynne) Young and grandsons, J.j. and Cary, Upper St. Clair, PA; sister, Ruth (Young) McMutrie, Erie, PA; nephews, Sam (Diane) McMutrie, Ben Avon, PA, and David (Beth) McMutrie, Erie, PA; niece, Barbara (Saxon) Abbey, Waitsburg, WA; niece, Theresa (Saxon) Wall, Coraopolis, PA; nephew, Michael Saxon; niece, Carol Ann ("Sissy") Saxon; and nephew, Donald (Celeste) Saxon, all of Aliquippa. He is also survived by numerous cousins, great and great-great nieces and nephews as well as special neighbors.
Jim was a member of the House of Prayer Evangelical Lutheran Church, the Aliquippa VFW Post 3577, American Legion Post 580, Monaca, PA, and a life-long resident of Aliquippa. He was also a past member of the Jamestown, PA, VFW Post 5424 and the Jamestown, PA, Firemans Club. He joined the U.S. Army on January 10, 1946, proudly serving as a Technician Grade 5, Military Policeman, in the 1225th ASU HQ and HQ Detachment of the Harbor Defense of New York, earning the WWII Victory Medal. Jim started working at J&L Steel Aliquippa Works as an Apprentice to Armature Winder when he was 16 years old. He retired from LTV Steel in 1989 with 46 years of service. Jim enjoyed walking and listening to classical music. He was an avid golfer, golfing in his shop league on Thursdays at Blackhawk Golf Course and participating in the VFW annual golf tournament each June in Indiana, PA, where he won or placed in his flight on multiple occasions. He was always up for a round of golf or hitting a bucket of balls at the driving range. He played his last round of golf in November 2022, at age 95, at Shadow Lakes in Aliquippa (formerly Aliquippa Country Club) where he began as a caddie at age 13 in 1940. He hit his last bucket of balls at Scally's in Moon Twp in March 2023. Jim was a very skilled electrician and carpenter and handy when it came to general repairs of all kinds. He enjoyed helping family, neighbors, and the church any time there was a need.
Jim's family would like to thank the loving and compassionate staff at Gateway Hospice and at McMurray Hills Manor for their kindness and gentle care of their dear father and grandfather.
Arrangements are being handled by Huntsman Funeral Home and Cremation Services of Aliquippa. Honoring Jim's wishes, a private interment will be held at the National Cemetery of the Alleghenies, 1158 Morgan Rd., Bridgeville, PA 15017.
Memorial contributions may be made in Jim's memory to House of Prayer Evangelical Lutheran Church, HOP Little Free Pantry, HOP Manna, or HOP Little Free Food Truck, 2100 Irwin Street, Aliquippa, PA 15001.