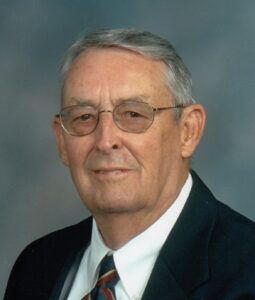 Peter R. Phillipy
Peter R. Phillipy
Peter R. Phillipy, of Moon Twp. Age 101 died on Thursday, March 23, 2023 in Good Samaritan Hospice at Heritage Valley Beaver.  He was born in Milbach, PA the son of the late Rufus & Emma (Frantz) Phillipy.
Brigadier General Peter R. Phillipy passed away on Thursday March 23rd. He is survived by his beloved wife Eleanor (Zakan) Phillipy of 61 Years. David (Katie) Phillipy, Patricia (Murdoch) Lind, and Peter (Renae) Phillipy, five grandchildren, David Phillipy, Elizabeth (Timothy) Lamping, Whitney Phillipy, Demi Phillipy and Rebecca Leibrick, and three great grandchildren, Noah, Emma, and Mary Lamping. He is also survived by sisters Orpha Shoener, Fern Hitz, and numerous nieces and nephews.
He was a veteran of World War II. He enlisted in the army in July 1942 and completed pilot training in December 1943. Upon completion of P-51 trading, he was assigned to the 325th Fighter Group, 15th Air Force in Italy. Main mission of the unit was escorting the bomber force throughout Europe. Upon completing 56 missions he returned to the States and served as a Gunnery instructor until released from active duty in November 1945 and assigned to the Air Force Reserve.
In February 1948 Capt. Phillipy joined the 148th Fighter Squadron of the PA Air National Guard. In February 1951 his unit was recalled to active duty for the Korean conflict and based at Dover AFB. In August 1953 he became the commander of the 148th Fighter interceptor squadron. In 1956 Major Phillipy was assigned as commander of the 112th Fighter Group at Greater Pittsburgh Airport.
In 1957 he competed in the Annual Ricks Trophy event sponsored by the Air Force Association. The event was speed dah in F-84f aircraft by participants of 12 Air Guard units. The route was from Fresno, CA to Andrews AFB. Major Phillipy was declared the winner averaging 638 MPH.
In December 1961 Lieutenant Colonel Phillipy was appointed Commander of the 112th Air Defense Wing. Under his leadership a unit in his command, in conjunction with five regular Air Force units, captured first place in the World Wide Interceptor Weapons Meet (Willian Tell) at Tyndall AFB in October 1963.
In 1964 the 112th Air Defense Wing was awarded the air Force Outstanding Unit award. This was the first Air Guard Unit to receive this prestigious award.
During the 1964-65 he attended the Air War College at Maxwell AFB, Alabama. Upon graduation he was designated a Distinguished Graduate. In 1966 he was promoted to Brigadier General.
In 1972 the Wing was redesignated the 171st AirRefueling Wing. In 1977 the Refueling Wing was also awarded the Air Force Outstanding unit for air refueling in Operation Creek Party from August 1973 to February 1977.
General Phillipy retired in January 1982 after serving as the Wing Commander for 20 years. He was qualified in the KC-135 with over 10,000 flying hours, which included 4,000 hours in fighter aircraft from the p-40 to the F-102.
In retirement he served on the Board of the Harmarville Rehabilitation Center 10 years. He was an active member of the Sharon Community Presbyterian Church for many years.
Military Awards – Air Force Distinguished Service Medal, Legion of Merit, Distinguished Flying Cross, Meritorious Service Medal, Airs Medal with 4 Oak Leaf Clusters, Air Force Outstanding Medal, and the Combat Readiness Medal.
With his many accomplishments he remained a humble man who was an avid golfer and very devoted and loving to his family.
Friends will be received on Monday, March 27, 2023 from 2-4 & 6-8 PM in the Huntsman Funeral Home & Cremation Services of Moon Twp. (1522 Coraopolis Hts. Rd.) where a Prayer Service will be held on Tuesday at 9:30 AM before Mass of Christian Burial at 10 AM in the Most Sacred Heart of Jesus Parish, St. Margaret Mary Church, Moon Twp. Interment and military honors will follow at Resurrection Cemetery.