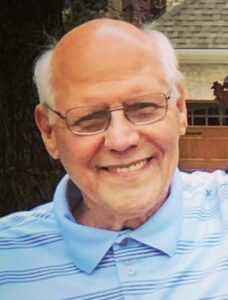 John W. Osegueda
John W. Osegueda
John W. Osegueda, 83, of Moon Twp., died on Monday March 13, 2023 in Good Samaritan Hospice House, Wexford.  He was born in Pittsburgh on June 23, 1939 the son of the late, Jesse & Stephanie (Wojtkowski) Osegueda.
John was a dedicated husband, father, brother, uncle, grandad and friend. He proudly served in the Army and held many jobs from steel mills to his final position as GM of CHEMcentral, a chemical distributing company. He was a man of conviction and character and was willing to do anything for anyone. He was very generous and always gave more than he would ever get back. He had a sense of humor that was obvious and fun and laughed all the time. Most of his life he enjoyed playing sports like basketball, football (undefeated Ambridge football team '56), tennis and golf. He was a little league coach and tennis instructor. John loved music passionately and would listen to many different genres. His love of music is something he carried with him throughout his entire life. John was a person that you wanted to be around and be like. He made sure the words that came out of his mouth meant something, never saying a bad thing about anyone. If you were lucky enough to spin in his orbit, even for a little while, you should consider yourself lucky. You are likely thinking about that little spin right now and smiling, because that's the impact he had on people.
In addition to his parents, John was preceded in death by his wife of over 60 years, Jan (Kaufman) Osegueda, two brothers, a sister and one nephew. He leaves behind his three children, J.J. (Stacy) Osegueda, Jacqueline (Shawn) Hornstein and Jeffrey (Tami) Osegueda. A granddaughter, Savannah Hornstein, with whom he had a very special bond. He also leaves behind a brother, Joseph (Cindy) Osegueda and sister Merienne (Bob) Lynch. Sister-in-law Donna Kaufman and brother-in-law Frank Kaufman. Niece Kiersten (Cory and great niece, RoseMary) Teitelbaum and 6 step grandchildren, 6 step great-grandchildren and many other family members and dear friends.
Family and friends will be received on Monday March 20th from 6-8 PM in The Huntsman Funeral Home & Cremation Services of Moon Twp. (1522 Coraopolis Hts. Rd.) Mass of Christian Burial will take place on Tuesday at 10:30 AM in Divine Redeemer Parish, St. James Church, Sewickley. Military Honors will follow, private interment will take place at a later date.
Memorial contributions can be made to Make a Wish Foundation.