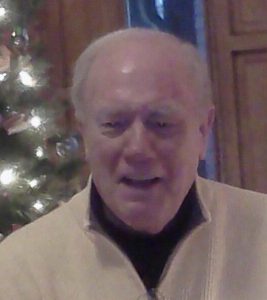 Rev. Rodgers Taylor "Rodge" Wood
Rev. Rodgers Taylor "Rodge" Wood
The Rev. Rodgers Taylor "Rodge" Wood, 89, of Kennedy Twp., passed away on January 13, 2023. He was born in Pittsburgh, PA, on December 16, 1933, the son of the late Robert E. & Margaret L. (Lindquist) Wood.
He was the rector of Christ Episcopal Church in the North Hills until his retirement in 1999 and prior to that the rector of St. Philip's Episcopal Church in Moon Township. His ministry included serving as a chaplain to a group of men incarcerated for life at Western Penitentiary. In retirement he served as an interim and supply priest for parishes in the Episcopal Diocese of West Virginia and the Episcopal Diocese of Pittsburgh. Before entering the priesthood, he worked in radio and television, most notably as the DJ (and heartthrob) of "Rodge's Garage" at WDAD in Indiana, PA and as the weatherman at WJAC in Johnstown, PA. He also served for two years in the US Army. In a full life of many accomplishments, he would say his family was his greatest achievement.
He was the beloved husband for 67 years of Roselind Davis Wood; devoted father to Melanie Wood (Beth Hines), OH; Jennifer Wood (Robert Steffes), Aliquippa; and Heather Wood (Mark Ring), CA; He adored his five grandchildren, Alison, Michael, Lindy, Taylor, and Casey and two great grandchildren, Samson & Bohdan. He is also survived by his brother, Geoffrey Wood (Rosalie), NC; and sister-in-law Darie Davis (Chuck Taubersmith), NC.
There is no public viewing, The Huntsman Funeral Home & Cremation Services of Moon Twp. is in charge of arrangements.
Memorial services will be held on Saturday, January 21, 2023 at 2 pm in Christ Episcopal Church, North Hills, 5910 Babcock Blvd., Pittsburgh, PA  15237 In lieu of flowers, memorial contributions can be made to the Pittsburgh Prison Book Project, c/o the Thomas Merton Center, 1256 Franklin Ave. Pittsburgh, PA 15221 or on-line at (www.thomasmertoncenter.org/projects) or to the Greater Pittsburgh Community Food Bank, 1 N. Linden St. Duquesne, PA 15110.