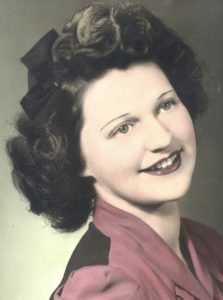 Mary Elizabeth Reed McCartney-Adair
Mary Elizabeth Reed McCartney-Adair
Mary Elizabeth Reed McCartney-Adair born Nov. 6, 1927 in Charleroi, PA. She was one of 4 children of the late John T. Reed & Amelia (Bertouille) Reed.
Married for 52 years to Wallace McCartney, who passed away in 2001. Also proceeding her in death was her 2nd husband, Rev. James Adair in 2004. She survived three brothers John Thomas Reed Jr. (2009), Edward R. Reed (2008), Robert J. Reed (2013). She was a graduate of Aliquippa High School, class of 1946. She was a homemaker & best friend with Rosemary Turkovich, since 1st grade of school. She was a member of Sharon Grange, Center Township Grange, and now Hookstown Grange. She was a faithful member of the Ohio U.P. Church since 1951, a Sunday school teacher in the children's dept. & adult dept., Past president of the woman's association, Deacon, and member of the church choir for over 50 years. Loved music and sang at weddings and funerals and special events. In her younger years she was a Boy Scout den mother, Brownie leader, and member of the Lady Birds bowling league, which disband in 2009. She was a volunteer for Meals-on-Wheels since 1973, as well as Contact Beaver Valley.
Her survivors are: son W. Earl (Sylvia) McCartney, in Alden NY; daughters Diane McCartney, in Portland, OR; Donna McCartney in Huntington Beach, CA; and son Patrick (Rhonda) McCartney, in Lampe, MO. As well as, 8 grandchildren: Chad Phillips, in Norway, ME; Adam (Marcella) Phillips, in Coppell, TX; Mac (Kelly) Cabal, in Costa Mesa, CA Cassie (Ben) Kestel & Rachael (Steve) Giardina, in Alden N.Y.; CJ Hostetter (Matt Kaemmerer), in Tokyo Japan; and Zoe and Caleb McCartney in Lampe, MO. Additionally, 7 great grandchildren: Raquel and Ana Cristina Phillips; Allie and Christina Cabal; Stella and Ethan Kestel; Lucas Giardina.
If you wish, memorials can be sent in Mary's name to Ohio U.P. Church building fund.
Visitation will be held on Friday, January 6, 2023 from 2~4pm & 6~8pm in Huntsman Funeral Home and Cremation Services of Aliquippa where a funeral service will be held on Saturday, January 7, 2023 at 10am