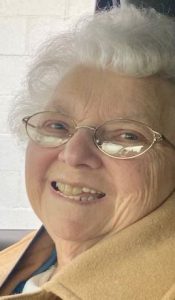 Elizabeth H. "Betty" Summers
Elizabeth H. "Betty" Summers
Elizabeth H. (Betty) Summers, 84, of Rochester Twp., passed away on Friday, June 17, 2022 at The Villa St. Joseph Concordia. She was born in Rochester, PA in 1938, the oldest child of the late Charles and Marie (Kovach) Graff of Rochester Twp.
In addition to her parents, Elizabeth was preceded in death by her husband of 58 years Thomas H. Summers in 2020. She was also preceded in death by two brothers, Andrew Graff and Joseph Graff, as well as a son-in-law, Robert Scott.
Elizabeth, often called Betty, came from a large, loving family. She was the oldest of eight children and was extremely close to her mother and siblings. Only God came before family for Betty. Betty was a devout Catholic and lived her faith every day.
Betty graduated from Mount Gallitzin Academy and then attended Duquesne University where she earned her degree in elementary education. (She actually worked her way through college and commuted to Duquesne University from Rochester for four years!) She was a lifelong educator who took exceptional pride in educating the youth in her community. She taught for over two decades at her beloved Saints Peter and Paul (SSPP) Catholic Grade School in Beaver, PA. Betty always taught her students, especially her own five children, that to be successful in life, one must have a strong foundation built around God, family, and education.
Betty and her husband Tom made huge sacrifices over the years to put their five children through Catholic grade schools and then through Quigley Catholic High School. They then assisted each child with attending and graduating from post-high school education or college. They both used to say that they "valued a faith-based education for their children over a fancy house or car."
Betty was very active volunteering. She was a past member of the Christian Mothers at St. Cecilia Catholic Church, a former member of the Rochester Twp. Volunteer Fire Department Women's Auxiliary Club, a past CCD teacher at St. Cecilia, a former Cub Scout leader, as well as engaged parent volunteer at SSPP and Quigley.
Betty is survived by five children: Thomas (Nancy) Summers, Lorton, VA; Charles (Karin) Summers, Cranberry Twp.; Kristin Scott, Economy; David (Nicol) Summers, Rochester Twp.; and Daniel (Jamie) Summers, Rochester Twp.; eleven grandchildren: Bennett (Kate), Austin (Kayleigh), Megan, Sienna, Lindsey, Brandon, Mandy, David John "DJ," Dawson, Lauren, and Nathan; three great grandchildren: Remington, Amelia, and Jensen; one brother: David (Sue Ellen) Graff; four sisters: Sr. Barbara Graff, SJS; Mary (Norm) Trunick; Anne Graff; Jeanne (Steve) Grueber. In addition to numerous nieces, nephews and in-laws whom she loved very much, she's also survived by a special sister-in-law Linda Hagerty, a dear friend Linda Gomory, and her SSPP retired teacher group.
The visitation will be held on Monday, June 20, 2022 from 3-7 pm in HUNTSMAN FUNERAL HOME AND CREMATION SERVICES OF ROCHESTER.
There will be a burial mass at St. Cecilia Catholic Church at 11 am on Tuesday, June 21, 2022.
Memorial contributions may be made to the following charities: Sts. Peter & Paul Catholic Grade School; Our Lady of the Valley Parish (St. Cecilia Catholic Church); American Diabetes Association.