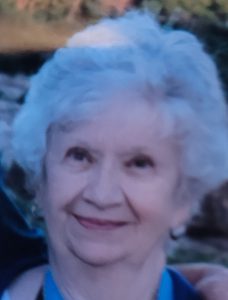 Carol A. (Masoner) Duffley
Carol A. (Masoner) Duffley
Carol A. (Masoner) Duffley, 81, of Oakdale, died on Wednesday June 8, 2022 in Good Samaritan Hospice at Heritage Valley Beaver.  She was born in New York City on December 26, 1940 and subsequently raised in Kansas, the daughter of the late Clarence "C.B." & Dorothy (Collins) Masoner.
She worked at Kaufman's for many years but was mostly a devoted mother, grandmother, crafter and gardener.
In addition to her parents, Carol was preceded in death by her husband Joseph C. Duffley in 2009. A son, John Duffley, and brothers, Gene Masoner and Charles Masoner.
Carol is survived by her daughters: Susan Duffley, Bridgeville and Elizabeth Manda (Richard), Moon Twp. Three grandchildren, John Duffley Jr., Paige Duffley & Colin Manda. Sister, Barbara Teepen, daughter-in-law, Cynthia Duffley and many nieces and nephews.
Interment will take place on Tuesday June 14th at 10AM at the National Cemetery of the Alleghenies, Bridgeville.
Memorial contributions can be made to: Good Samaritan Hospice (www.concordialm.org)