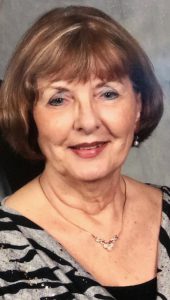 Mary Janice "Jan" (Kaufman) Osegueda
Mary Janice "Jan" (Kaufman) Osegueda
Mary Janice "Jan" (Kaufman) Osegueda, of Moon Twp., passed away April 28, 2022 at the age of 81. She was born on January 16, 1941 in Rochester, PA. to Frank and Christine (Grabner) Kaufman.
Jan graduated from Ambridge High School in 1958. She taught preschool and was retired after many dedicated and fulfilling years working with children. Her passions were gardening, cooking, crocheting, cross stitching or, of late, helping to take care of her granddaughter, Savannah, who she loved dearly. She was known for her generosity, her infectious smile, and her kind and compassionate spirit. She would help anyone that needed it and was always the first person most called when they needed words of encouragement. She enjoyed all the fun vacations she took with family and friends and often talked of the memories. Family and friends were always her highest priority, she would have gone to the end of the world for any of them, if only she could. It is all of them who will miss her beyond measure.
She is survived by her husband of over 60 years, John W. Osegueda, three children, John "J.J." Osegueda (Stacy) AZ, Jacqueline Hornstein (Shawn) Independence Twp., Jeffrey Osegueda (Tami) Hopewell Twp., a brother, Frank Kaufman, a sister, Donna Kaufman, a granddaughter, Savannah Hornstein, 6 step grandchildren, 5 step great-grandchildren, a niece, Kiersten Teitelbaum (Cory) and a great-niece, Rose Mary Teitelbaum and many, many cousins from all over the world that she enjoyed keeping up with.
Friends and family will be received on Monday, May 9th from 6-8 PM and Tuesday, May 10th from 11AM until time of Blessing Service at 12 Noon in the Huntsman Funeral Home & Cremation Services of Moon Twp. (1522 Coraopolis Hts. Rd.)
In lieu of flowers memorial contributions can be made to: St. Jude Children's Research Hospital (www.stjude.org)