Mary Ann "Buttons" Brown
Mary Ann "Buttons" Brown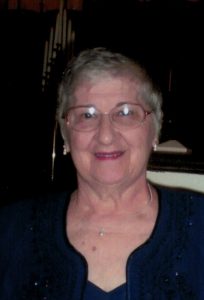 Mary Ann "Buttons" Brown, 80, of Rochester Twp., passed away peacefully on Monday February 27, 2017 at Good Samaritan Hospice at Heritage Valley Beaver.   She was surrounded by her loving family after a lengthy illness.  Born June 8, 1936 the daughter of the late Ivan & Mildred (Vuynovich) Siget.
She was preceded in death by her loving husband Verdane "Brownie" Brown, three brothers: Steve, John and Joseph Siget, and one sister Doris Kurhansky and a brother-in-law Norman Kurhansky.
She is survived by her loving family: 2 daughters: Joyce (Daniel) Brenner, New Sewickley Twp., and Cheryl Pitti, Canandaigua, NY; and a son Douglas (Tammy) Brown, Center Twp.; 5 grandchildren: Keith (Crystal) Brenner, Kristen (Jeffrey) Vojtko, Matthew (Karen) Pitti, Kurt (Candice) Brenner, Anthony Pitti and a step granddaughter Burnedette Wilkins; 6 Great grandchildren: Austin & Samuel Brenner, Trinity and Rylie Vojtko, and Kensington & Grayson Pitti; a Brother: Michael (Sophia) Siget; a Sister: Diana (Roy) Bigler; 3 sisters-in-law, Stella, Helen, and Dorothy Siget; 2 brothers-in-law Rev. Richard (Delores) Raines and Rev. Ray (Paula) Raines, and numerous nieces and nephews. She loved her family dearly, and will be missed by all.
Friends will be received on Thursday from 2~4 & 6~8pm in the Huntsman Funeral Home and Cremation Services of Rochester. Also on Friday   from 10:30 until the time of Funeral Service at 11AM  in St. John's (Burry's) Church 1835 Rt. 68 Rochester.
Interment will follow in Burry's Cemetery.
In lieu of flowers, memorial contributions may be made to Good Samaritan Hospice at Heritage Valley Beaver.