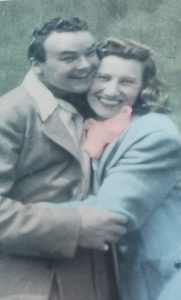 Julia D. Roblauskas
Julia D. Roblauskas
Julia D. (Chupasko) Roblauskas, formerly of Neville Island (Pittsburgh, PA), died on October 9, 2021. She is preceded in death by her husband of 62 years, Benedict S. Roblauskas, her son Robert Roblauskas, her sister Mary (Chupasko) Foster, her sister Sadie (Chupasko) Harter, and her brother Nickolas Chupasko. She is survived by her daughter Sallie (Roblauskas) Adams, son-in-law Robert Adams (Moon Township, PA), grand-daughter Shannon (Adams) Schultz and her husband Ben Schultz (Cresson, PA).
Julia worked at Pittsburgh's Omni William Penn Hotel in various capacities for 50 years. She loved her career at the William Penn and often told stories of the famous movie stars, professional athletes, and political leaders she met while they stayed at the hotel.
Julia was a loving wife, mother, and grandmother as well as a faithful member of Saint Joseph Roman Catholic Church in Coraopolis, PA where she seldom missed a Sunday service until her health started to deteriorate. She always shared a kind greeting and smile to both friends and strangers. Julia was also an adventurer who enjoyed going to new places and trying exciting activities like snorkeling in Grand Cayman when she was 79 years young.
Memorial service will be held at the Saint Joseph Roman Catholic Church on October 18, 2021, at 10:00 am. Procession to Saint Joseph Cemetery for interment will follow the service. "A Celebration of Life" luncheon for family and close friends will follow at 12:00pm.
The family wishes to thank the staff at Hillview Personal Care Home in Coraopolis, where Julia resided for the prior five years.