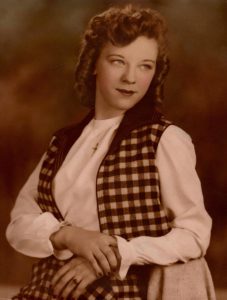 Catherine Miller
Catherine Miller
Catherine C. (Tina) Miller, 93 of Hopewell Twp., passed away peacefully in her home on Wednesday January 27, 2021.  She was born in 1927, the daughter of the late William and Ernestine Figura. Tina was a member of Our Lady of Fatima Catholic Parish.  During WWII she went to work as a grenade bag maker, a true Rosie the Riveter, and was very proud of her service.  She loved to crochet, knit, paint and was very artsy.  In addition to her parents, Tina was preceded in death by her husband Walter Miller in 2006, her 12 brothers and sisters, and a Daughter-in-law, Donna Miller, Catonsville, MD. She is survived by her two sons: Bill Miller, (devoted husband of the late Donna Miller) Catonsville, MD and Jimi & Dena Miller, Ambridge; grandchildren: Kelly  (Josh) Bartels;  Justin Miller (Kendra Sheaffer), Grant Kidney, Kelly Kidney, Nikki Marie (Garrett Johnson) great grandchildren;  Jordan Bartels, Devin Bartels, Summer Kidney , Hunter Whitaker, Ava Rose Johnson,  and two great, great grandchildren, Josey Bartels and Ava Rose Johnson; one Sister-in-law, Betty Hands, Chandler Arizona.
Many friends, nieces and nephews. Thanks to those special nieces, nephews, and friends who would visit and call regularly; Debra Weber, Diana Sangregario, John and Darlene Sangregario, Jamie Barasso-Weber, Joyce Muto, Catherine (Sissy) and Mike Strushenky, Kathleen Jonila, Joan Puinno, Nancy Franz , Phyllis Holdsworth, Scott Pankoke, Rene Melendez, Nancy Call, Kevin Burns, Patrick Barto, Stephen Baklarz, Tom Helman, and Donna Perkins.
The Family would like to thank Gallagher Hospice Care for their support, compassion, and guidance. Andrea, Jocelyn, Nica, David, Jaime, Erica, and Bonny truly made up a stellar team making our Mom comfortable and pain free in her home under the care of Dena and Jimi Miller. A very special thanks to ALL. Dena and Jimi Miller were Tina's caretakers for the past 2- years, and 24/7 for the past year. Bill Miller for his visitation, caring support in so many ways, guidance, and love. Debra Weber for her loving support, visitation with Tina's favorite meal – barbecued spare ribs, and Grace Fortunato for sitting with Tina during Dr. appointments for Dena and Jimi. As per her request, there will be no visitation, a private memorial service will be held at a later date.
I'm lieu of flowers, the Family asks that donations be made to the Stroke Association.