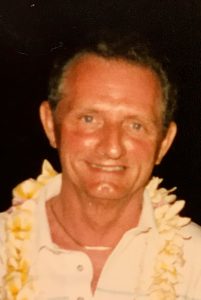 Donald "Nink" Ross
Donald "Nink" Ross
It is with great sadness that we announce the passing of Donald "Nink" Ross, 87, of West Aliquippa, on December 27, 2020.
Don passed away at home with his wife and step-daughter, Susan, by his side.
Don was born in Aliquippa, to the late Eva Dell Ross on January 11, 1933 and graduated from Aliquippa High School, in 1951. While in school, Don participated in Hi-Y basketball, the drama Club and lettered in Cross Country. After graduation, Don went to work at the now defunct, National Electric, in Ambridge, where he was to meet his first wife and Mother of his four children, Doris Margaret Mozena, now deceased.
Don was drafted into the U.S. Army and served in the Korean War, with the 74th Combat Engineers, Battalion 26. He received the Good Conduct Medal, the National Defense Service Medal, United Nations Service Medal, Korean Service Medal and Meritorious Unit Citation. Upon discharge and returning to Aliquippa, Don participated in the Aliquippa recreation league. He played softball for Burgundy's and Savin's. He also played Basketball for St. Veronica's, Mt. Carmel Presbyterian Church, and for the Coil Repair Shop in the J&L Steel League. Don was the assistant coach for Miller and Sons Little league team for several years.
A True-Blue Aliquippa boy, Don loved his "QUIPS". He was also an ardent fan of the Pittsburgh Steelers and Pirates.
After Doris's death at age 38, due to Ewing's Sarcoma, Don married Bertha Clark, now deceased, of Bellevue and became a step-father to her six children.
Don was employed at J&L (LTV) as a general maintenance pipe fitter in the North Mill shop for 30 years. He was a former trustee at the Polish National Alliance, Monaca, PA. He also belonged to the American Legion, Monaca, PA., and the Veterans of Foreign Wars of Hopewell, PA.
Don was preceded in death by his first wife, Doris and his former wife, Bertha. He is also preceded in death by his former step-children, Michael, Stephen, Christopher and Timothy Clark.
Surviving is his wife, Kathleen of 37 years; his four children, Sharon Ross Campbell and her husband Jerry of Aliquippa, PA., Donald Ross of Aliquippa, Gary E. Ross and his wife, Melissa Pallone, of McDonald, PA., and Joyce Ross Strader and her husband, Terry, of Crescent, PA.; his step-children, Susan Mustach Becker and her husband Ernest, of Beaver, PA., Matthew T. Mustach, Jr. and his wife Alma Espinosa, of Summersville, SC and Merry Kaye Mustach Cerneskie and her husband Mark, of Dormont, PA.; his former step-children, Daniel Clark, of Monaca, and Stacy Clark of Bellevue.
The following 12 grandchildren survive, Renee Campbell Brown, Jennifer Campbell (Roman Alexander), Christine Mroczkowski (husband Tyler), Michael G. Ross, Nicholas G. Ross, G. Anthony Ross, Destiny N. Trumble (husband Wyatt), S/Sgt. Dustin Mustach USAF Japan, Olivia A. Becker, Hannah K. Becker, Jacob C. Cerneskie, Rachel E. Cerneskie, and four great grandchildren, Zoey S., Kylie N., Waylon D. Trumble and Morgan E. Brown.
He is also survived by his cousins, Marc Ross, Elizabeth Ross, JoAnn Herman, Linda Maynard and Richard Frantz, Jr. and his furry doggie buddies, Abby, Maggie, Rocco and Elliott the cat.
The family would like to thank (AGH) Allegheny Health Care Services for their compassion and care in assisting with Don's in home Hospice Care, his hospice nurses and his physician, Dr. Michael A. Karp.
Family and friends will be received on Wednesday, December 30th from 1-4 Pm in the Huntsman Funeral Home and Cremation Services, Inc. of Aliquippa (2345 Mill St.) where a funeral service will be held at 4 PM. Masks and social distancing are required. His interment will be private.