William A. Dunn Sr.
William A. Dunn Sr.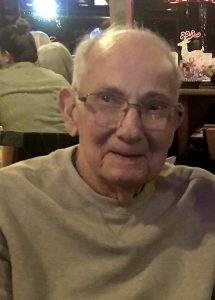 William A. Dunn Sr., 88, of Moon Twp., passed away on Sunday, May 3, 2020 in Good Samaritan Hospice House in Wexford.  He was born in Sheridan, PA on February 16, 1932 the son of the late Arthur (Gladys) Dunn and Isabel Mary (Keck) Dunn, whom passed away when he was young. He was a retired accounting clerk for J&L Steel.  He was a semi pro pitcher for Pirates Farm Team and he once struck out Rudy York.  He was also a championship Dart Ball Player for the Pittsburgh Church Dart Ball Association.
In addition to his parents he was preceded in death by his three sisters: Mary Jane, Dot, and Lois, as well as his former wife Mary.
He is survived by his three children and their spouses: Dr. William A. Dunn Jr (Dr. Constance Uphold), Gainesville, FL; Deborah A. Dunn (Gerard Geist) Lancaster, PA; and Raymond C. (Mary Theresa) Dunn, Pittsburgh; 4 grandchildren: Lindsay (Adam) Rich, Nicholas, Derrick, and Christina Dunn; 2 step grandchildren: Lisa (Lawrence) Pope and Denise (David) Kane; 3 step great grandchildren: Katie (Daniel) Limbacher, Emily Pope and Trevor Kane.
A private service was attended by the family. Burial was in Sewickley Cemetery.
Huntsman Funeral Home and Cremation Services of Moon Twp., are entrusted with the arrangements.