Pauline J. Whitehead
Pauline J. Whitehead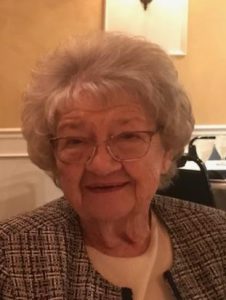 Pauline J. Whitehead, 91, of Hopewell Twp. Passed away on Monday May 4, 2020 in Heritage Valley Sewickley.  She was born on November 2, 1928  in Leonia, FL the daughter of the late Luther and Vonie Jones.  She was an active member of the First Baptist Church of Woodlawn. She also was a member of the Hookstown Grange and the Woodlawn Chapter of the Order of the Eastern Star.
In addition to her parents she was preceded in death by her 4 siblings: Luther, Ralph, and Frank Jones and Myrtle Sanford.
She is survived by her husband of 73 years Harry D. Whitehead;  three children: Linda Searight, Panama City, Fl; Harry D. (Patty) Whitehead Jr., Montville, OH; and David Whitehead, Charleroi, PA; 5 grandchildren: Scott Searight, Betsy (Jim) Wilson, Ben Searight, Paul (Kelly) D'Amico, and Jessie (Ashley) Whitehead: 15 great grandchildren, one great great grandchild, and her sister Doris Bell.
A funeral service was held for immediate family. A burial will take place  Leonia Baptist Church Cemetery, Leonia, FL.
Huntsman Funeral Home and Cremation Services of Aliquippa are entrusted with the arrangements.