Frank Louis Reda
Frank Louis Reda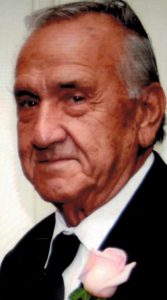 Frank Louis Reda, 94, of Rochester, passed away on April 7, 2019.
He was born in Monaca, on April 1, 1925, a son of the late Antonio and Angelina (Zigarelli) Reda.
He is survived by his loving wife of 66 years, Evelyn (Palakovich) Reda; three sons, Frank Reda Jr., of Fla., Ronald Reda of Monaca and Randall (Christina) Reda, of Fla.; six grandchildren, Frank (Kelly) Reda III, Danny Reda (Kim), Christopher Reda, Michael Reda, Nicholas Reda, Gianna Reda and two great-grandchildren, Kenley and Phoenix Reda.  He is also survived by Jean Reda, Mary Jo Reda; nieces and nephews, Louis and Tony Reda, David, Joseph and Mark Palakovich, Kelly Reda, Cathy Kaluza, Cindy Karazsia, and Yvonne Berg.
Frank graduated from the Monaca High School and also attended Duquesne University. He joined the U. S. Marines and was a World War II Veteran serving in the 4th Marine Division in the Philippines and the South Pacific Islands. He was a cement mason by trade and was Secretary/
Treasurer of the OP&CM Local 56; a 40-year member of the Rochester Area Joint Sewer Authority; member and trustee for the Beaver County Labor Council; member of the Knights of Columbus; 50-year member of the American Legion Post 580 and St. Cecilia's Parish.
Family and friends will be received on Tuesday from 4 to 8 p.m. in the HUNTSMAN FUNERAL HOME & CREMATION SERVICES OF ROCHESTER, www.huntsmanfuneralhomes.com, 502 Adams St.  A Mass of Christian burial will be celebrated on Wednesday at 10 a.m. in St. Cecilia Roman Catholic Parish, 632 Virginia Ave., followed by interment at St. Cecilia Cemetery where Veteran Honors will be provided by the Vietnam Veterans of America Chapter 862 Southwestern, Pa.