Dolores Lorraine Plakosh
Dolores Lorraine Plakosh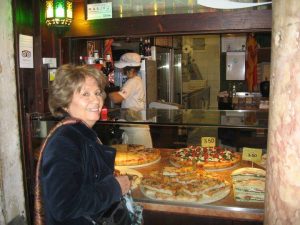 A Mass of Christian Burial will be held Saturday, Mar. 2, 2019, at 9:30 a.m. at Our Lady of Fatima Catholic Church for DoloresLorraine Plakosh, 88, who passed away in her sleep after a brief illness, on Saturday, Feb. 23, 2019.
Dolores was born May 22, 1930, the daughter of a butcher and homemaker, Alfred and Alice (Mott) Durso, in Uniontown, Pa. Dolores's grandparents (Pasquale D'Urso (1880-1932) from Nusco, Italy and Maria Giuseppa Prezioso (1885-1954) from Bagnoli Irpino, Italy on her father's side, and Filippo Diletto(1887-?) and Vita Maria Motta (1877-1929), both from Gallicchio, Italy, on her mother's side) came to the United States in the late 1800s and early 1900s and settled in Uniontown, Pa., where they found work and a community.
Dolores's parents, who met and were married in 1924, welcomed a daughter, Leonora in 1928, and Dolores two years later.  The tight-knit family of four lived in a cozy, hilltop home on Edmund Ave. overlooking the Laurel Mountains.  Dolores often shared fond memories of her childhood; tending a garden kept by the family in the back yard, visiting her father while he worked at Romeo's Market, learning to cook her favorite Italian foods with her mother, and playing with neighborhood friends.
Dolores attended North Union High School (Class of 1948), where she especially enjoyed studying math and socializing with friends.  After graduation, she followed in her sister's footsteps, choosing to pursue a career in nursing and attending the Uniontown Hospital School of Nursing (Class of 1951).
While at nursing school, Dolores and Leonora met brothers Charles 'Charlie' and Paul Plakosh, and cinema-worthy romances quickly blossomed.  Leonora and Paul became a quick match and wed in 1948.  Dolores fell for Charlie's tongue-in-cheek humor, charm, and glowing smile.  They were married in 1954 after Charlie returned from two years in the Army, serving with the 82nd Airborne Division at Fort Bragg, N.C. and in the Medical Corps, 505th Airborne Infantry.
Dolores and Charlie began their life together in Youngstown, Ohio, then moved to Clearview Estates, a new subdivision in Aliquippa, Pa., in 1959.  They raised four children in the home they shared on McIntosh Dr.  Charlie began a career with the United States Postal Service, while Dolores took temporary leave from nursing to take care of her young children.  Dolores often recounted fond memories of watching her children grow up in their family home – sled riding down the huge hill in the backyard with neighborhood friends, playing together in the cellar, and even picking on each other as all young brothers and sisters do – and expressed her overwhelming pride in them for all they achieved.
As her children grew and became independent, Dolores returned to her nursing career.  She took on a variety of roles at St. Elizabeth Hospital and Aliquippa Hospital.  She spent many years working in home health, but she most enjoyed the time she spent working in labor and delivery.  For Dolores, the birth of a child was a miracle every time. She loved welcoming babies into the world and caring for their mothers.  Dolores retired from nursing in 1985, but never fully stepped away from the work she loved.  For many years, she spent her Sundays offering blood pressure screenings at Our Lady of Fatima Catholic Church, carefully watching the health of her loved ones, and even attended the home birth of her great-grandson, Isaac, an experience which she treasured and led to the formation of a strong and very special bond between the two.
After retiring, Dolores and Charlie fully embraced their roles as grandparents.  Each summer, their home bustled with activity. Grandchildren and neighborhood kids filled the home; playing in the basement, picking blackberries in the woods behind the home, flooding the yard and tracking mud in the house after spending hours on the slip-n-slide, catching lightening bugs in the back yard, and watching neighbors from the comfort of a 1980s-style aluminum lawn chair parked in the driveway.  Dolores was always prepared with popsicles and old-fashioned miniature marshmallow ice cream cone treats for the kids.
Dolores and Charlie especially treasured the holidays, welcoming family and neighbors into their home to celebrate Thanksgiving and Christmas.  Dolores would prepare a feast of American and Italian treats; rotisserie turkey with stuffing and slow-cooked gravy, tender pot roast with carrots and onions cooked in her vintage pressure cooker, melt-in-your-mouth gnocchi with homemade meatballs and sauce, fresh-from-the-oven Italian rolls, her special recipe creamed corn (which was equally loved by the grandchildren and a family cat) and a spread of desserts that left us all loosening our belts (strawberry Jello pretzel salad, chocolate swamp, cheese cake, lady locks, peanut butter pie, blackberry pie, pizzelles, anise knots, sugar cookies, nut rolls…and so much more!). While the adults ate and talked upstairs, the grandchildren congregated in the cellar where they happily and noisily played with the red Radio Flyer wagon and challenged each other to climb the support pole.
In 1999, Dolores lost her beloved Charlie after an illness.  While his illness and passing were heartbreaking for Dolores, and the proposition of facing life alone was scary, she came out the other side of the experience so strong she sometimes surprised herself.  She took bus trips to Atlantic city, where she and her friends enjoyed laughing and socializing while happily feeding their budgeted $20 into the dime machines.  She traveled the world with her son, Danny, and daughter-in-law, Judy.  They visited cities across the United States, Canada, Mexico, and made ajourney to Italy, the trip she dreamed of her whole life, in 2010.  She became the great-grandmother to six great-grandchildren, and godmother to two.  She welcomed a loving new partner into her life, Robert Redford, who fiercely protected her from the mailman, squirrels, and neighbors taking walks.
In the final years of her life, Dolores focused an abundance of love on her grandchildren and great-grandchildren.  Many hours were spent in the warmth of her kitchen, passing on family recipes and techniques to her grandchildren, Amanda and Tony'Sage', and her great-granddaughter, Layla.  She watched her great-grandson, Isaac, as he danced and sang for her in her living room and taught him how to sew.  She had the great joy of celebrating birthdays and holidays with her grandson Daniel and his family.  Kailey, Ethan, and 'baby' Daniel brought her many smiles and joy, and she loved every minute of listening tolittle Aubrey tell stories. She proudly watched Tenae achieve the goals she spent a lifetime working towards, loved hearing stories about Hogan and his swim team victories, and longingly remembered her dear grandson, Dylan.
She stayed in her home, as was her wish, until the final day of her life.  She loved the comfort of her home and cherished the memories made there.  The first year that Dolores and Charlie lived in their McIntosh Dr. home, they planted seedlings in the back yard.  With each passing year, she watched the trees grow taller and stronger and set deeper roots.  She thought of those trees as a metaphor for her family – her children and the generations that followed.  She knew that the trees, like us, would face hard times – branches would bend and break – but the deep roots would see us through.
While we are deeply saddened that we will not have the joy of creating new memories with Dolores, we are comforted in knowing that the worry and pain her illness caused have ceased.  As strong, loving, and willful as she was, events that have occurred since her passing have let us know that she is watching over us and intervening when a helping hand is needed.
Dolores is survived by four children – Trina, Charles, Lisa and Daniel; six grandchildren – Amanda, Tony 'Sage', Tenae, Daniel, Hogan, and Natalie; and six great-grandchildren – Layla, Isaac, Kailey, Ethan, Daniel, and Aubrey; and two dear neighbors and friends, Beverly Galzerano and Nancy Speciale.
She was preceded in death by her beloved husband of 45 years, Charles; her sister, Leonora 'Lee' Faye (Durso) Plakosh; two beautiful twin daughters who passed shortly after birth; and her dear grandson, Dylan Thomas Casey.
The Plakosh family has entrusted their loved one to the care of the Huntsman Funeral Home, where they will receive family and friends on Friday, Mar. 1, 2019, from 3 to 7 p.m.  Mass will take place on Sat., Mar. 2 at 9:30 am with internment immediately following at Mt. Olivet Catholic Cemetery where she will be laid to rest next to her husband.