Gloria E. Gray
Gloria E. Gray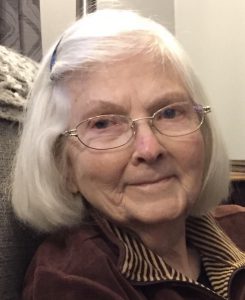 Gloria E. Gray, formerly of Hopewell Twp., passed away on Friday, December 21, 2018 in West Grove, PA. She was born on November 6, 1925 the daughter of the late George and Kathryn Adams.  She was a life long member of the First United Methodist Church of Aliquippa where, as a young lady, she enjoyed singing in the Choir, always participating in or leading Sunday School classes, and throughout her adult life being active in the United Methodist Women.
In addition to her parents, she was preceded in death by her husband Donald C. Gray; a daughter Mary Lou Gray; two daughter-in-laws: Traci B. Gray and Janet L. Gray; and five brothers: G. Ross, Donald W., Jack H., Hershel L. And Robert E. Adams.
She is survived by her 4 children: Donald G.  & Terri Gray, Sayer, PA; Timothy S. Gray, Hopewell Twp.; James D. & Ann Gray, Aliquippa; and Elizabeth J. & Robert Cochran, Lincoln University, PA; 12 grandchildren; eight great grandchildren, and two sister-in-laws: Virginia Skelton, Hopewell Twp. and Nancy Adams, Ashtabula, OH.
Friends will be received on Saturday, December 29, 2018 from 10:00AM until the time of Funeral Service at Noon in the First United Methodist Church of Aliquippa.  2816 Brodhead Rd.
Private interment will take place in Sylvania Hills Memorial Park. Memorial donations can be made to the First United Methodist Church of Aliquippa.